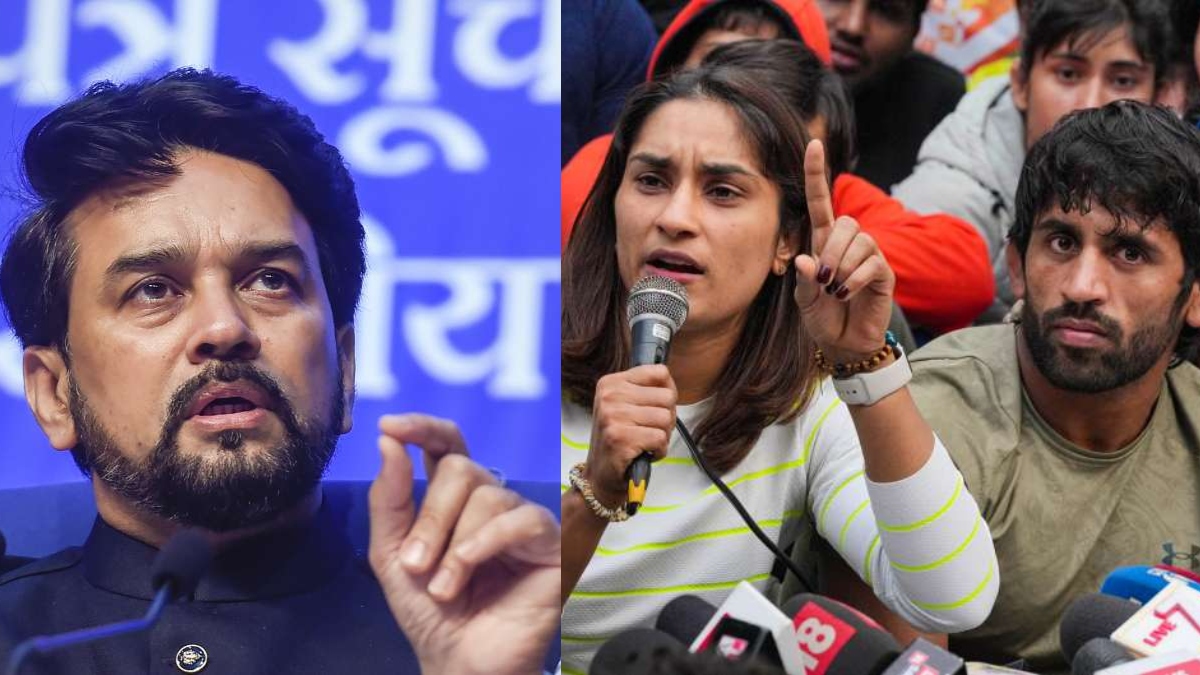 Wrestlers row: The Wrestling Federation of India and India's top wrestlers are in a face-off situation after the latter levelled allegations, including that of sexual harassment against the WFI President Brij Bhushan Sharan Singh. The wrestlers protested at Delhi's Jantar Mantar and sought Singh's resignation, among other demands. However, the protest was called off by the grapplers after they met Sports Minister Anurag Thakur for the second time.
Here's what panned out on January 21 after the meeting between Thakur and Wrestlers
Panel to probe allegations against Singh, Wrestlers end protest
After the meeting, Sports Minister Anurag Thakur announced that the government has decided to form an oversight committee that will probe the matter. He also stated that the WFI President will step aside till the committee is in existence. The committee will submit its report within four weeks. Meanwhile, the protesting wrestlers ended their demonstration after receiving promises from the government that their complaints would be taken care of, the initial action being the resignation of the Wrestling Federation of India Chief Brij Bhushan Sharan Singh who was facing criticism.
WFI sends reply to Sports Ministry
The Wrestling Federation of India on Saturday sent a reply to the Sports Ministry over allegations against its' president Singh. The Federation has rejected all the allegations made by the Indian wrestlers, including that of sexual harassment against the body's president Singh. "The WFI is managed by an elected body as per its constitution, and therefore, there is no scope for arbitrariness and mismanagement in WFI by anyone individually, including the president," the WFI said in its response to the sports ministry. "The WFI, in particular, under the sitting president has always acted keeping the best interests of wrestlers in mind. The WFI has enhanced the image of wrestling sport nationally as well as internationally and for the record of this ministry, it is not possible without fair, supportive, clean and strict management of WFI," it added.
Sports Ministry suspends WFI Assistant Secretary Vinod Tomar
In a major update on the Wrestlers and Wrestling Federation of India row, India's Sports Ministry on Saturday The Ministry took the action after WFI wrote to the Sports Ministry and rejected the allegations against its President Brij Bhushan Sharan Singh. suspended the WFI Assitant Secretary Vinod Tomar. 
Sports Ministry to announce names of oversight committee members on Sunday
Another development that took place on January 21 is that the Sports Ministry will reportedly announce the names of oversight committee members on Sunday. The sources confirmed this after a meeting held on Saturday between Sports Minister Anurag Thakur, Sports Secretary Sujata Chaturvedi and SAI DG Sandip Pradhan on the matter. The names of the committee members were supposed to be revealed on Saturday. "Sports Ministry will announce the names of the three-member oversee/probe panel on Sunday," a source told PTI.
(Inputs from PTI)