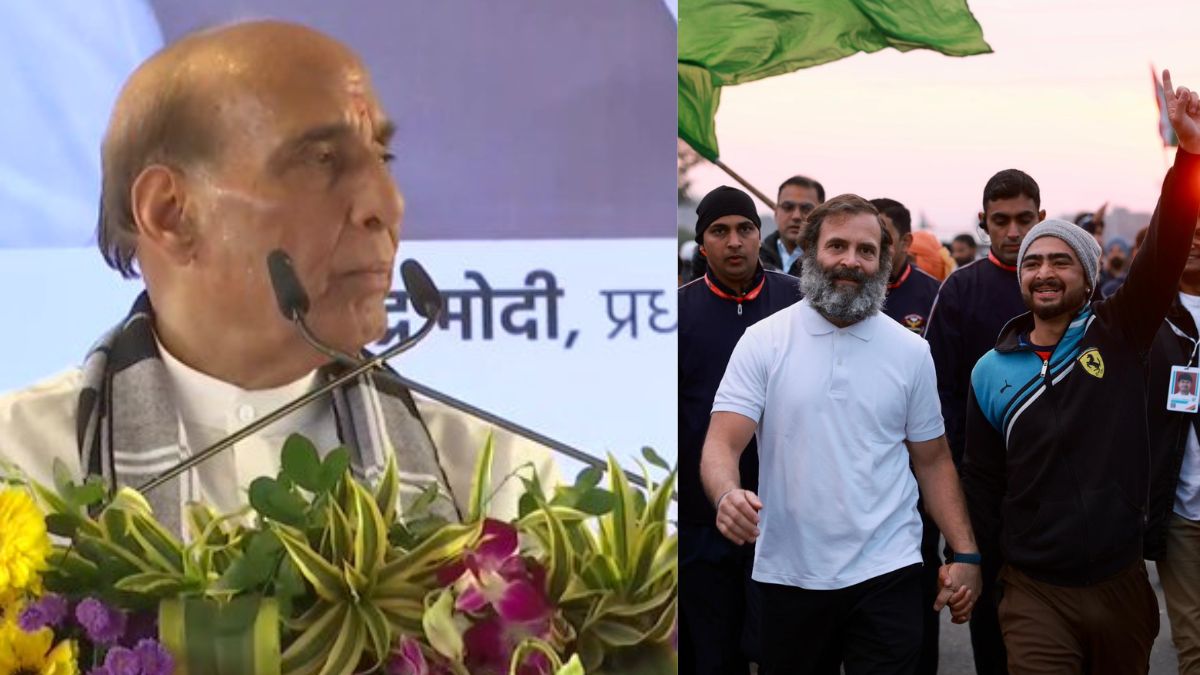 Rajnath Singh criticises Bharat Jodo Yatra: In a scathing attack on Rahul Gandhi-led Bharat Jodo Yatra, Defence Minister Rajnath Singh on Sunday raised questions over the intention of the yatra and asked, "Who is giving birth to hatred in the country?"
The critical remarks from Singh came as Congress, since the start of the yatra, has been claiming that the incumbent government is fuelling hatred in the society and their yatra is meant to spread love and unite the society.
While addressing a public rally in Madhya Pradesh's Singhrauli, the defence minister said, "I ask Rahul Gandhi who is holding Bharat Jodo Yatra in the country and saying there is hatred in the country, who is giving birth to hatred in the country?"  "India is being defamed by saying there is hatred in the country. What has happened to you Rahul ji?" asserted Singh. 
It is worth mentioning on several occasions the Congress MP criticised the Saffron party for endorsing communal violence in society by allegedly demeaning a "particular community".
Gandhi claims BJP is giving a communal angle to every topic
Addressing a rally at Red Fort last year, Gandhi attacked the Narendra Modi led-government and said the BJP is always busy moulding every topic to Hindu-Muslim and added "it is being done intentionally to divert people's attention from real issues". 
"It is not Narendra Modi's government. It is Ambani and Adani government. Hindu-Muslim hate is being spread 24X7 on TV to divert public attention from real issues," Rahul had said. "I have walked 2,800 km, but did not see any hatred. When I turn on the TV, however, I see violence," he added. On the other hand, the ruling party, on several occasions, criticised the grand old party and marked the yatra as "Bharat todo yatra". 
Bharat Jodo Yatra resumes amid tight security in J-K's Kathua
Notably, the Bharat Jodo Yatra led by Congress leader Gandhi resumed Sunday from Hiranagar in Jammu and Kashmir's Kathua district amid heightened security in the wake of twin blasts in Jammu. After a day-long break, the foot march started as per schedule around 7 am from Hiranagar near the International Border along the Jammu-Pathankot highway which was sealed by police and other security forces.
Accompanied by J-K Pradesh Congress chief Vikar Rasool Wani, working president Raman Bhalla and hundreds of volunteers carrying the tricolour, Gandhi entered Samba district's Tapyal-Gagwal after crossing Londi check point at around 8 am and was greeted by enthusiastic workers and supporters waiting on both sides of the road. After covering about 25-km distance, the march will have a night halt at Chak Nanak before restarting from Samba's Vijaypur for Jammu, where it will reach on Monday.
(With inputs from agencies)
Also Read: Kerala: Rahul Gandhi lauds Wayanad on becoming first Indian district to digitise tribals' documents