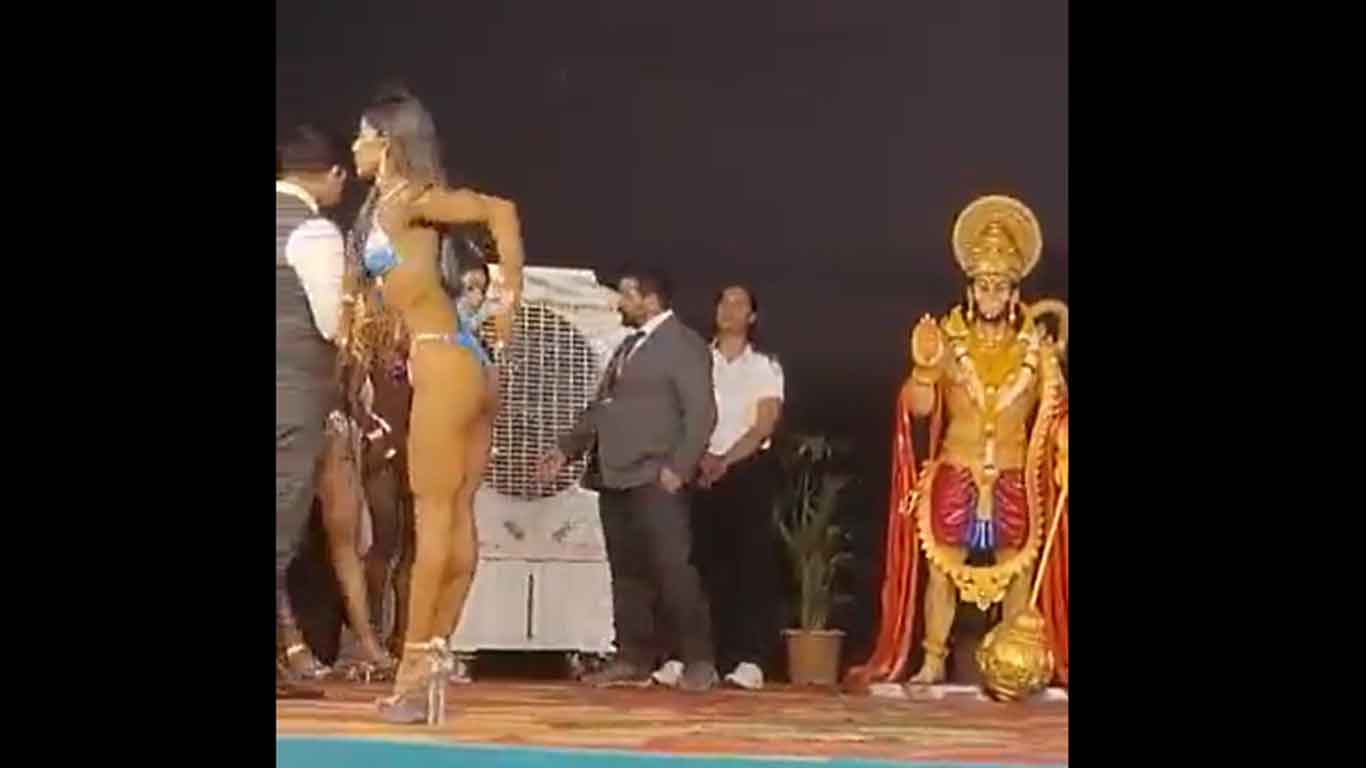 [ad_1]

Bhopal: A controversy has erupted over the dress code of a bodybuilding championship in Madhya Pradesh`s Ratlam after female bodybuilders allegedly gave their performance in bikinis in front of Lord Hanuman`s idol. Seeking an apology from the organisers, Congress claimed that the event hurt the sentiments of the Hindu people.

बीजेपी नेताओं ने किया हनुमान जी का अपमान :

रतलाम में भाजपा के बीजेपी विधायक चैतन्य कश्यप और महापौर प्रह्लाद पटेल ने हनुमान जी की मूर्ति स्टेज पर रखकर अश्लीश कार्यक्रम का आयोजन किया।

शिवराज जी,

भाजपा बार-बार हिन्दुओं का अपमान क्यों करती है pic.twitter.com/C4FWb2i72N
— MP Congress (@INCMP) March 6, 2023
Meanwhile, the Samajwadi Party has also hit out at the ruling BJP for insulting the Hindu Gods.

भाजपाई धार्मिक मूर्तियों का अपमान न करें। pic.twitter.com/65MlHVQkb0
— Akhilesh Yadav (@yadavakhilesh) March 6, 2023
The 13th Mister Junior Bodybuilding Competition that was held on March 4 and 5 was organised by Ratlam`s Mayor (BJP) Prahlad Patel. It was attended by state education minister Mohan Yadav. The event landed in trouble after videos of women bodybuilders posing in front of the image of Hanuman went viral on social media. The three-day long event was named the `Mukhyamantri Body-Building Competition`.
The event irked local Congress leaders who then sprinkled 'ganga jal' and recited 'Hanuman Chalisa' as part of the "purification" of the venue. Hitting out at the BJP, Congress claimed that it is an insult to Lord Hanuman.

Congress leaders and workers staged a protest outside a local police station and recited Hanuman Chalisa. Some local BJP leaders also joined the protest and chanted mantras. The organising committee, however, maintained that the women competitors performed on the stage in their dress code only.

State Congress media in-charge KK Mishra issued a statement, saying that the "nudity show was presented before the statue of Lord Hanuman, and it was done in the presence of BJP leaders". "The BJP calls itself a `Ram Bhakt` party, and on the other hand, its leaders are insulting Hanuman. BJP leaders should apologise for insulting the Hindu deity," he added.

District Youth Congress Committee president Mayank Jat said Lord Hanuman will punish those who were involved in this. State BJP spokesperson Hitesh Bajpai hit back claiming the Congress did not want to see women excelling in sports, while some of the event organisers submitted a memorandum to the police demanding action against the Congress leaders.
In his video statement, Bajpai said, "Congressmen cannot see women taking part in wrestling, gymnastics or swimming because the devil inside them awakens by seeing this. They look at women on the playground with dirty eyes. Aren't they ashamed?"

Meanwhile, Piyush Babele, the media advisor of MP Congress chief Kamal Nath, sought an apology from Chief Minister Shivraj Singh Chouhan alleging the event, which was held to mark the CM's birthday on Sunday, was "disrespectful to Hindus and Lord Hanuman". Babele said his party will boycott Bajpai in television debates for "supporting obscenity".


[ad_2]

Source link