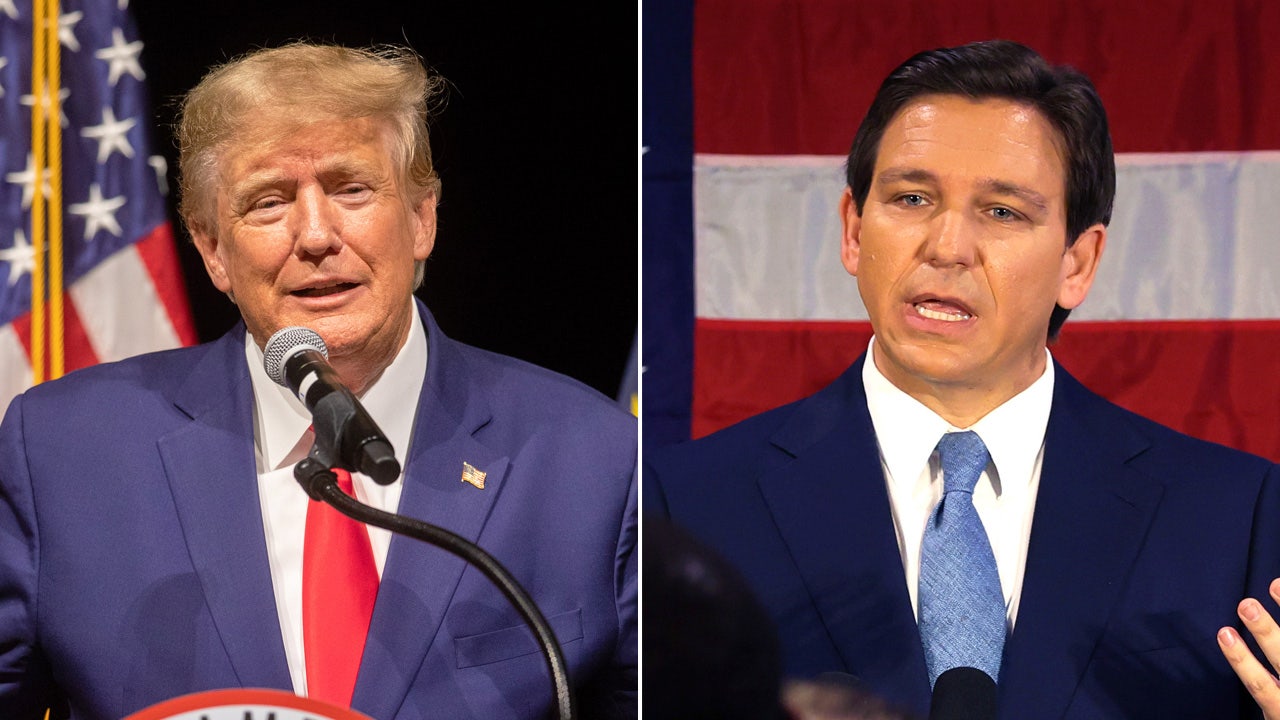 [ad_1]

Former President Donald Trump is once again taking aim at Florida Gov. Ron DeSantis with a new nickname.
"GREAT POLL NUMBERS. LEADING BIDEN, DESANCTUS, AND ALL OTHERS BY A LOT," Trump wrote in a Wednesday evening post to his Truth Social account. "MAKE AMERICA GREAT AGAIN!!!"
Trump used the same nickname for DeSantis earlier this week as he attempted to distance himself from the potential 2024 GOP presidential candidate, who could be Trump's biggest political challenge — if he decides to run — among the growing field of candidates.
Responding to Trump's post about DeSantis, New York Times reporter and Trump critic Maggie Haberman, who has said she is aware of Trump's insults towards DeSantis in casual conversations, claimed the former president's new nickname for the Florida governor could "offend some religious voters as he claims he's not experimenting with new ones."
TRUMP DENIES SPENDING TIME COMING UP WITH DESANTIS NICKNAME AFTER NEW YORK TIMES REPORTS 'MEATBALL RON' DIG
Trump, who announced last November that he would be making a third run for the White House, hasn't taken kindly to speculation that DeSantis might enter the race for president next year. In recent months, Trump has targeted DeSantis in speeches and posts on Truth Social.
Earlier this month, Trump referred to DeSantis as a "RINO GLOBALIST" and took issue with his handling of the coronavirus pandemic.
"The real Ron is a RINO GLOBALIST, who closed quickly down Florida and even its beaches. Loved the Vaccines and wasted big money on 'Testing.' How quickly people forget!," Trump claimed in a post to Truth Social.
Haberman claimed earlier this month that Trump also "has insulted Mr. DeSantis in casual conversations," calling him "Meatball Ron" or "Shutdown Ron," a reference to coronavirus restrictions the governor enacted in Florida.
"All of the Fake News is reporting that I spend large amounts of my time coming up with a good 'nickname' for Ron DeSanctimonious, who is obviously going to give the presidential 'thing' a shot," Trump wrote on Truth Social in response to Haberman's reporting. "They are all 100% wrong, I don't even think about it — A very unimportant subject to me!!!"
DESANTIS LAUGHS OFF QUESTION ABOUT HIS 2024 PRESIDENTIAL PLANS: 'WOULDN'T YOU LIKE TO KNOW'
DeSantis, a former congressman who has witnessed widespread support among conservatives in Florida and nationally, has yet to declare his 2024 intentions.
Long speculated to enter the 2024 presidential race, DeSantis was re-elected to serve as the governor of Florida by 20 percentage points in November and even won the vote in blue-leaning Miami-Dade County.
While it remains unclear whether he will make a run for the White House, DeSantis has dropped plenty of hints that he may be considering a presidential bid since his re-election victory speech last year.
DeSantis was asked in February during a news conference whether he intends to follow in former South Carolina Gov. Nikki Haley's footsteps and seek the GOP nomination for president.
CLICK HERE TO GET THE FOX NEWS APP 
"Wouldn't you like to know," DeSantis responded with a laugh.
Sources in DeSantis' wider political orbit say any presidential campaign launch wouldn't occur until late spring or early summer, after the end of Florida's current legislative session. But Republican sources confirm to Fox News that the governor's political team has already started reaching out and identifying operatives for a potential White House run.
Fox News' Paul Steinhauser contributed to this article.


[ad_2]

Source link