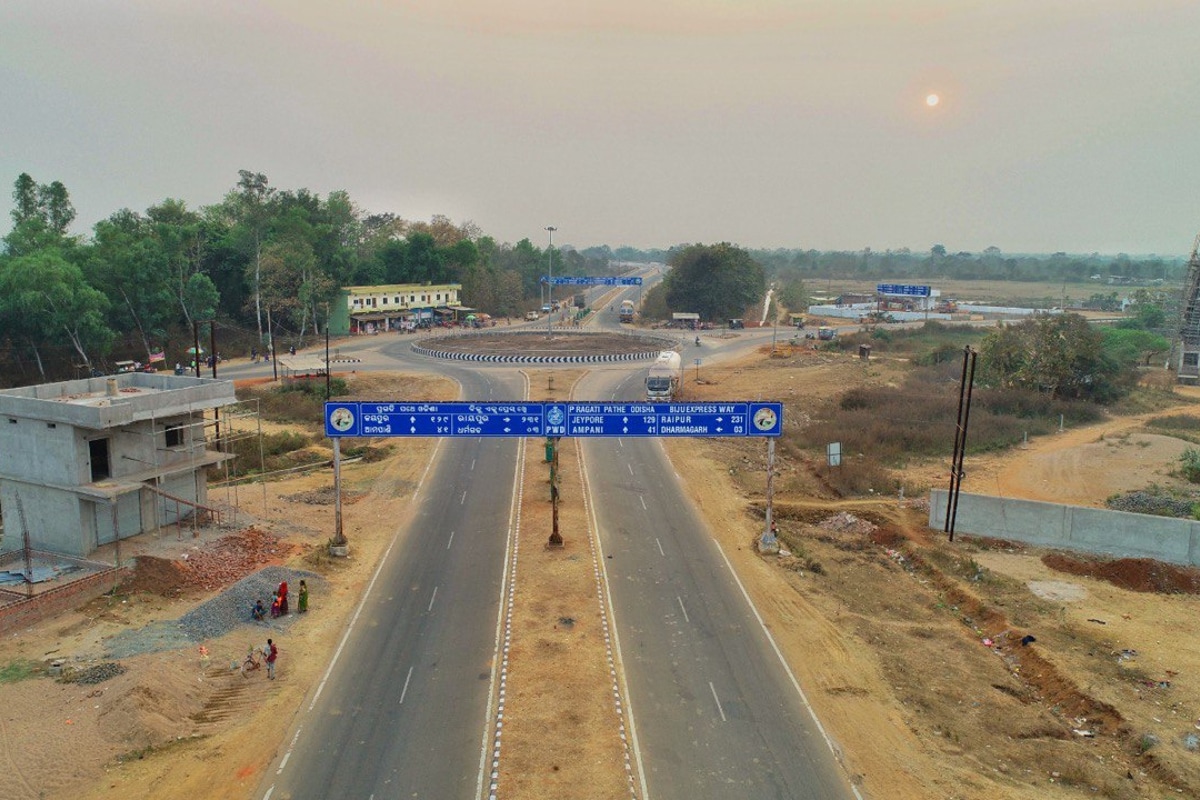 [ad_1]

For decades, Odisha's Kalahandi was infamous for deaths due to starvation, but now the district is ready to usher in a new era of development thanks to the Biju Expressway, inaugurated along with the Biju Economic Corridor, by Chief Minister Naveen Patnaik last week.
Marking the 107th birth anniversary of his father and legendary leader Biju Patnaik, the CM, during his visit to Nuapada district on March 5, inaugurated the four-lane Biju Expressway built at a cost of Rs 590.84-crore.
The 546-km expressway links nine districts, six in western Odisha. The road connects Biramitrapur in the northern most point in Sundergarh to Ampani in Kalahandi district. In the next stage, the road will connect to Motu in Malkangiri district. Kalahandi and Nuapada districts are particularly expected to benefit from the greenfield stretch of 176 km going through remote highland tracts hitherto away from the mainstream.
News18 takes a look at Odisha's expectations from the Biju Expressway and how it is likely to help in the state's economic growth.
Industrialisation
One of the main objectives of the Biju Expressway is to promote industrialisation in western Odisha. The region is abundant in natural resources such as iron ore, coal, bauxite and manganese and is also home to many large industries such as, steel plant, aluminium smelters and cement factories.
The deficit in infrastructure, which was proving to be a bottleneck has been more than made up for by the state-of-art four-lane expressway. The expressway will connect the region to major ports, airports and industrial hubs in neighbouring states such as Andhra Pradesh, Telangana and Chhattisgarh.
It will facilitate the movement of goods and raw materials. This is expected to reduce transportation cost, increase efficiency and promote growth of industries in mining manufacturing and agriculture.
The Biju Expressway passes through a mineral-rich region of the state that boasts of 28% iron, 80% limestone and 20% of manganese reserves in the state. This will help in the corresponding development of manufacturing units of steel, aluminium processing like TMT, alloy etc.
The road goes through the cotton-producing areas and sprawling paddy-producing centres in both Hirakud and Indravati command areas. The economic corridor will be the spine of western Odisha districts drawing strength from major industrial areas like Rourkela, Jharsuguda and Raipur in Chhattisgarh, and Vishakhapatnam in Andhra Pradesh.
Connecting highways like NH-55 from Sambalpur to Cuttack and NH-217 from Gopalpur to Raipur and NH-130 CD from Jagdalpur to Vishakhapatnam will serve as complementary roads.
The steel hub in the northern districts with the aluminium and power hubs in Sambalpur, Hirakud and Jharsuguda areas will be integrated with the agri-rich districts of Bargarh, Sambalpur, Kalahandi and Nuapada. It will lead to integration of agri-produce encouraging processing industries. There is already a substantial interest in investment in ethanol and rice bran oil plants in western Odisha.
Economic Corridor
The Government of Odisha has already developed a plan for industrial zones and industrial nodes around which IDCO has been tasked to acquire land and create modern infrastructure for ready occupation of both major and small industries.
So far, 11 industrial nodes have been identified and nearly 1,000 acres have been acquired — Reuna in Sundergarh, Badmal, Panchpada and IDCO Tower in Jharsuguda, Basantapur in Sambalpur, Komna in Nuapada, Taljaring and Golamunda in Kalahandi, Bamani in Nabarangpur, Pondi in Koraput, and Titiberu in Malkangiri.
To assist the latent possibility in industrial growth, the Industrial Policy 2022 provides unparalleled levels of incentives. The policy, announced in the Make in Odisha Conclave, designates all non-mineral-based industries in the Biju Economic Corridor as thrust sector industry, attracting highest level of incentives.
All investments in the designated industrial areas along with Biju Economic Corridor can avail 30% capital investment subsidy without any ceiling limit. Such a provision is the first one in the country and would be a game changer along with other incentives like ED exemption and power tariff reimbursement, assistance towards EPF and ESI contribution and other myriad assistance.
How Will Tribal Communities Benefit?
Besides its economic potential, the expressway is expected to improve access to education, health and employment in the area. It is also expected to boost tourism as it runs along areas endowed with forest, lakes, rivers and mountains.
The tribal and under-privileged population dwelling in these areas in the border districts are expected to be exposed to greater economic possibilities. Another important objective of the expressway is to improve the wage and skill level of the local population, while reducing population migration.
Speaking to News18 Asit Tripathy, Principal Advisor to Chief Minister of Odisha, said: "The seamless connectivity will not only increase transport and logistic movement from the iron ore and coal-rich northern part of the state like Sundergarh and Jharsuguda, but also provide a link to the prosperous irrigated areas like Sambalpur, Bargarh with Kalahandi and Nuapada which have tested the fruits of major investment in ambitious irrigation projects like Lower Indra, Indravati, Upper Junk etc."
"In close proximity of prosperous industrial areas like Bilaspur, Raipur and Bhilai and eventually Vizag, this region is going to play a major economic role in the country. The major ports of east coast Odisha like Paradeep, Dhamra, Gopalpur and Subarnarekha will provide impetus for trade and commerce. The upcoming investment in industry and commerce in this area will result in faster urbanisation, social mobility, major development in human development indexes of the largely tribal population. To that extent, Biju Economic Corridor is a game changer," he added.
Read all the Latest India News here
[ad_2]

Source link