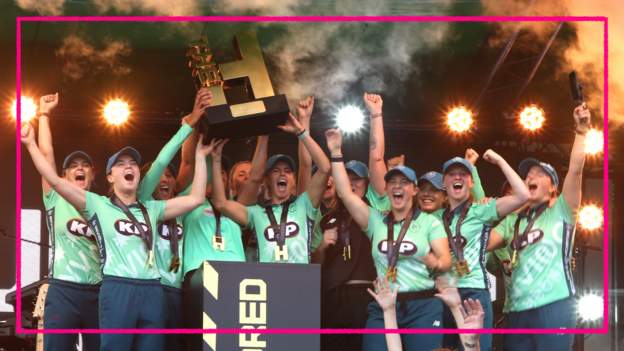 Trent Rockets and Southern Brave will open the 2023 edition of The Hundred on 1 August at Trent Bridge.
All fixtures this season will be double-headers, with both the men's and women's competitions starting at the same time.
The women's tournament started later in 2022 because of a clash with the Commonwealth Games.
The men's and women's finals for the Hundred's third season will take place on 27 August at Lord's.
Trent Rockets are the reigning men's champions and start their defence on home soil, while Oval Invincibles, who will be aiming for a third successive women's title, begin their campaign at home against London Spirit.
Franchises will take part in a player draft for 2023, which is set to take place on 2 March – and this season will be the first time the women's competition has a draft.
Invincibles and England batter Lauren Winfield-Hill said: "Lifting the trophy with my Oval Invincibles team-mates last year was a career highlight that I'll never forget.
"The first-ever women's draft is definitely going to bring an exciting new element to the game and it will be interesting to see how the teams shape up for another fierce competition."
Across both competitions, teams are expected to announce which players they have retained from 2022 on 16 February.
Full fixture list
Tuesday, 1 August: Trent Rockets vs Southern Brave, Trent Bridge, women 15:00, men 18:30

Wednesday, 2 August: Welsh Fire vs Manchester Originals, Sophia Gardens, women 11:30, men 15:00 & London Spirit vs Oval Invincibles, Lord's, women 15:00, men 18:30

Thursday, 3 August: Northern Superchargers vs Birmingham Phoenix, Headingley, women 15:00, men 18:30

Friday, 4 August: Southern Brave vs Welsh Fire, Ageas Bowl, women 15:00, men 18:30

Saturday, 5 August: Manchester Originals vs London Spirit, Emirates Old Trafford, women 11:00, men 14:30 & Birmingham Phoenix vs Trent Rockets, Edgbaston, women 14:30, men 18:00

Sunday, 6 August: Southern Brave vs Northern Superchargers, Ageas Bowl, women 11:00, men 14:30 & Oval Invincibles vs Welsh Fire, Kia Oval, women 14:30, men 18:00

Monday, 7 August: Manchester Originals vs Birmingham Phoenix, Emirates Old Trafford, women 15:00, men 18:30

Tuesday, 8 August: London Spirit vs Southern Brave, Lord's, women 15:00, men 18:30

Wednesday, 9 August: Trent Rockets vs Northern Superchargers, Trent Bridge, women 11:30, men 15:00 & Oval Invincibles vs Manchester Originals, Kia Oval, women 15:00, men 18:30

Thursday, 10 August: Birmingham Phoenix vs Welsh Fire, Edgbaston, women 15:00, men 18:30

Friday, 11 August: Northern Superchargers vs Oval Invincibles, Headingley, women 15:00, men 18:30

Saturday, 12 August: London Spirit vs Trent Rockets, Lord's, women 11.00, men 14.30 & Welsh Fire vs Southern Brave, Sophia Gardens, women 14:30, men 18:00

Sunday, 13 August: Northern Superchargers vs Manchester Originals, Headingley, women 11:00, men 14:30 & Birmingham Phoenix vs Oval Invincibles, Edgbaston, women 14:30, men 18:00

Monday, 14 August: Welsh Fire vs Trent Rockets, Sophia Gardens, women 15:00, men 18:30

Tuesday, 15 August: Oval Invincibles vs London Spirit, Kia Oval, women 15:00, men 18:30

Wednesday, 16 August: Southern Brave vs Birmingham Phoenix, Ageas Bowl, women 15:00, men 18:30

Thursday, 17 August: Trent Rockets vs Manchester Originals, Trent Bridge, women 15:00, men 18:30

Friday, 18 August: London Spirit vs Northern Superchargers, Lord's, women 15:00, men 18:30

Saturday, 19 August: Trent Rockets vs Birmingham Phoenix, Trent Bridge, women 11:00, men 14:30 & Southern Brave vs Oval Invincibles, Ageas Bowl, women 14:30, men 18:00

Sunday, 20 August: Manchester Originals vs Northern Superchargers, women 11:00, men 14:30 & Welsh Fire vs London Spirit, Sophia Gardens, women 14:30, men 18:00

Monday, 21 August: Oval Invincibles vs Trent Rockets, Kia Oval, women 15:00, men 18:30

Tuesday, 22 August: Northern Superchargers vs Welsh Fire, Headingley, women 15:00, men 18:30

Wednesday, 23 August: Manchester Originals vs Southern Brave, Emirates Old Trafford, women 15:00, men 18:30

Thursday, 24 August: Birmingham Phoenix vs London Spirit, Edgbaston, women 15:00, men 18:30

Saturday, 26 August: The Hundred Eliminator, Lord's/Kia Oval, women 14:30, men 18:00

Sunday, 27 August: The Hundred Final, Lord's, women 14:15, men 18:00