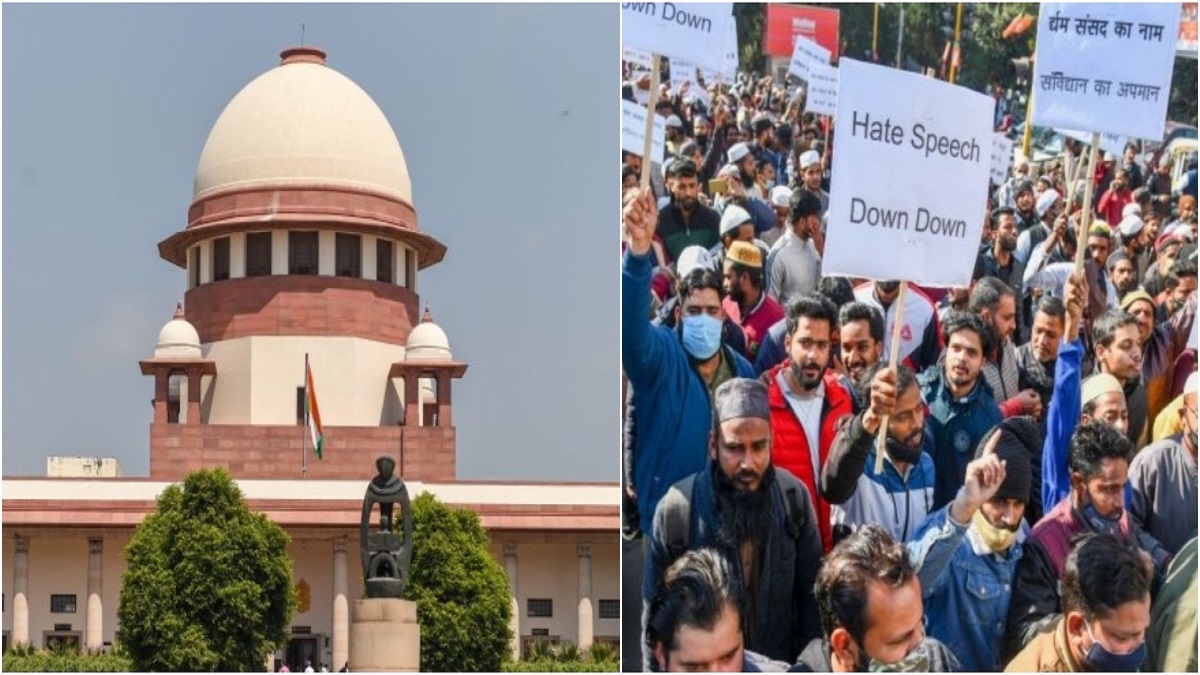 SC on hate speech: The Supreme Court observed that hate speeches are a "complete menace" and lamented the lack of regulatory control on TV news content, stating it wants a "free and balanced press in India." 
The top court also claimed that nowadays everything is driven by Television Rating Point (TRP), and channels are in competition with one another and "dividing the society." It further questioned why a TV news anchor cannot be taken off air if they contribute to the problem of spreading hate speech.
"We want free speech, but at what cost," the court said noting that, unlike print media, there is no Press Council of India for news channels. 
The remarks were made by a bench of Justices KM Joseph and BV Nagarathna, which was hearing a batch of petitions seeking a curb on hate speech incidents across the country and action against the culprits.
"Hate speech has become a complete menace. It has to stop," the bench said. 
The top court expressed concern over media trial
Expressing concern over the media trial, the bench pointed to the recent incident of a man allegedly urinating on an Air India flight, saying, "He was called names. Media people should understand he is still under trial and he should not be denigrated. Everyone has dignity." Justice Joseph said TV channels are competing with each other as news coverage is TRP-driven.
He went on to say that TV channels sensationalise everything and create divisions in society because of the visual element. Unlike the newspaper, the visual medium can influence you much more and unfortunately, the audience is not mature enough to see these kinds of content," Justice Joseph added. 
He said many a time during live debates the anchors became part of the problem as they either mute the voice of the person sitting in a panel or don't allow them to present a counter view.
Justice Nagarathna said if TV channels are found to be violating the programme code by indulging in the propagation of hate speech, action can be taken against their management.
Action has been taken against several channels: News Broadcasters Association
The counsel representing the News Broadcasters Association claimed that thousands of complaints have been received in the past year and action taken against the channels.
"In a live programme, the key to the fairness of the programme is held by the anchor. If the anchor is not fair, he would not allow the counter view to come by either muting the speaker or by not asking the question to the other side. This is an insignia of bias. "How many times action has been taken against the anchor? Media people must learn that they are occupying positions of great strength and they have an impact on society. They cannot be part of the problem and speak their mind whichever way they want," the bench said.
ALSO READ: 'Where have we reached in name of religion?': SC orders suo motu action against hate speeches
Justice Joseph said if action is taken against the news anchor or their management, all will fall in line.
The court told Additional Solicitor General KM Nataraj, appearing for the Centre, that freedom of speech and expression is a very important and delicate thing and the government has to take some action without actually interfering with it.
Centre committed to deal with issues of hate speeches
General KM Nataraj said the Centre is aware of the problem and is contemplating bringing amendments to the Code of Criminal Procedure (CrPC) in order to deal with the problem of hate speeches.
The bench told him the government has to act against broadcasts that impact the nation and affect fraternity and harmony carefully within the domain of law with some out-of-the-box solution.
Justice Nagarathna said, "TV has been now in India for decades but still it has no regulations and has become free for all. You don't have something like the Press Council of India for channels like newspapers."
ALSO READ: SC issues notice on whether Muslim girl can marry person of her choice after attaining puberty | DETAILS
The bench recalled a recent incident where a Delhi police officer was stabbed by a snatcher in front of a crowd but no one intervened, and said, "Several people were there but no one wants to stick their neck out."
Deputy Advocate General of Uttarakhand Jatinder Kumar Sethi said several cases of hate speech were registered including 23 that were lodged by police suo motu (on its own) as per the last order of the court.
(With PTI inputs)