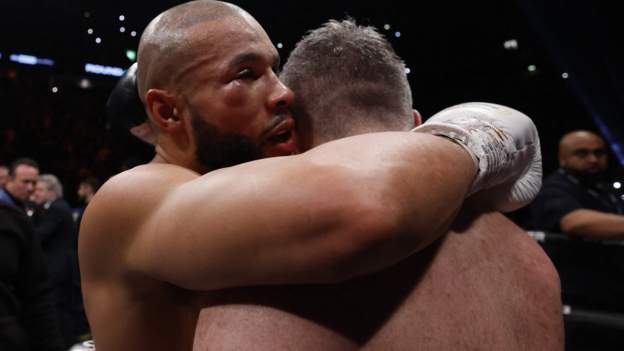 Liam Smith stopped Chris Eubank Jr in four rounds to bring a bitter rivalry to an explosive end.
Eubank Jr, 33, had been unbeaten since 2018 but suffered the first stoppage defeat of his career.
Liverpool's Smith knocked Eubank down twice in quick succession in the fourth round before the referee waved off the contest.
Fight week was dominated by controversy but it was Smith who pulled off the upset after moving up in weight.
There was rapturous celebrations among Smith's team and in the crowd when the fight ended, with the 34-year-old's brothers Callum, Paul and Stephen joining him in the ring.
The two fighters hugged in the ring after emotions calmed and Smith opened the door to a rematch in his post-fight comments.
"I said all week I'm a good finisher and I knew if I got him hurt that I would finish him," Smith told 5 Live.
"Name me a Chris Eubank fight that has been respectful, not many. 
"Something I said may have come across wrong and I apologise for anyone offended by that. I respect everybody and it was just tongue in cheek with Chris. 
"There's not many fighters who can milk a crowd like I can. That was up there with the best nights in my career. 
"I'll do the rematch on my terms."
A contentious week ends in fireworks
Eubank-Smith had gradually turned into an unexpected grudge match that erupted during fight week.
The pre-fight media conference saw Eubank suffer homophobic taunts from Smith, while the Liverpudlian was the victim of taunts about social class and personal attacks about infidelity.
It meant fight night was a charged affair once the main event rolled around just before 11pm.
Smith emerged first to a brilliant reception and was the clear crowd favourite having made the short trip from Liverpool.
Eubank entered the arena to a chorus of boos, but appeared undeterred, taking an extra moment to turn and face the crowd before jumping over the ropes.
But it was a cautious opening from Eubank. Smith was on the front foot, tagging Eubank in the opening rounds with quick right hands.
Eubank, though, was prepared to ride out the pressure and came to life in the third with a flurry of uppercuts after a left hook landed on Smith.
But just as it seemed Eubank was getting a foothold in the fight, Smith came back strong in the fourth round.
He caught Eubank with a succession of punches and landed a hard left hook during a combination that sent Eubank falling backwards.
The Brighton native immediately returned to his feet but was visibly unsteady.
The referee allowed the contest to continue and Smith pounced on a hurt Eubank, immediately sending him back to the canvas.
The defeat is the third of Eubank's career and leaves him at a crossroads should he decide against fighting Smith again.
For Smith, victory marks the fourth stoppage win in a row as the veteran fighter continues to enjoy a purple patch.