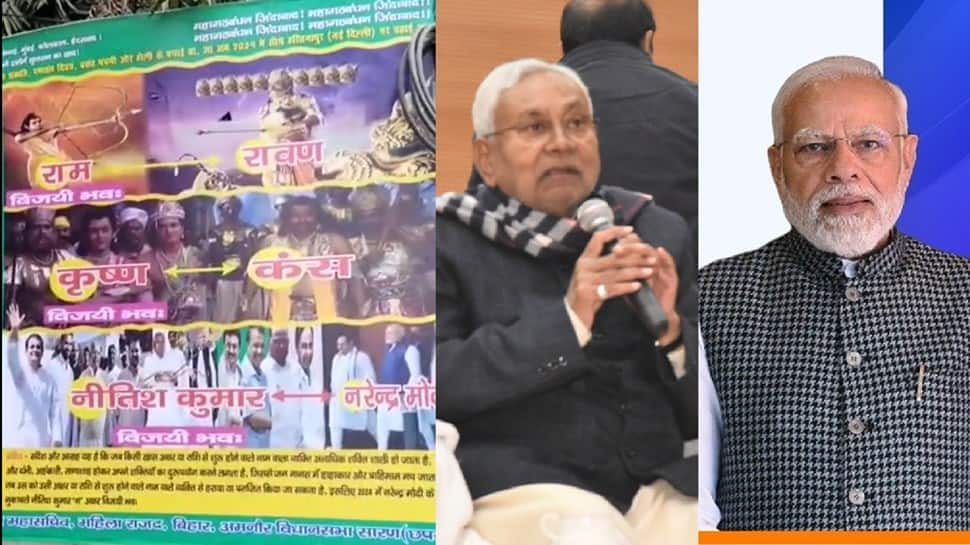 In Bihar, a fresh poster put up by some Rashtriya Janata Dal (RJD) workers has created a controversy as it compared Prime Minister Narendra Modi to Ravana and Kansh. The poster showed that a war took place between Ram and Ravana in Ramayana kal, and between Krishna and Kansh in Mahabharat kal and it went on to suggest that the 2024 political battle will be between a grand alliance of opposition parties and Narendra Modi-led BJP. The poster showed Rahul Gandhi, Nitish Kumar, K Chandrasekar Rao, MK Stalin, Arvind Kejriwal, Tejashwi Yadav and Sharad Pawar as a part of the grand alliance. 

The posters was put outside former Bihar Chief Minister and RJD leader Rabri Devi's residence, depicting Prime Minister Narendra Modi as "Raavan/Kansa. The poster also depicts Bihar's incumbent Chief Minister Nitish Kumar as Lord Rama/Krishna. The poster is divided into two rows, illustrating how Lord Ram defeated Ravana in the Ramayana and how Lord Krishna defeated Kansa in the Mahabharata.

However, the poster did not go well with the BJP which hit back saying that instead of Nitish-NaMo, the fight could be just the opposite.  "This is not the era of the war of the monarchy. This is an era of democracy where votes decide fate. Ram-Ravana and Krishna-Kansh are fine but instead of Nitish-NaMo, NaMo-Nitish can also be written. But why kill a person who is already dead? RJD's poster fools, what do you think about the rhyme of Tej(Pratap)-Tej(shwi)?" asked Bihar BJP spokesperson Nikhil Anand.
ये राजशाही के युद्ध का दौर नहीं है। लोकतंत्र में वोट की चोट का दौर है।

राम-रावण, कृष्ण-कंस तो ठीक है। लेकिन नीतीश- नमो की जगह नमो- नीतीश भी लिखा जा सकता है।

लेकिन मरे हुए को क्या मारना!

तेज(प्रताप)-तेज(स्वी) की तुकबंदी के बारे में क्या ख्याल है राजद के पोस्टर वाले बेवकूफों! pic.twitter.com/yZ1mzNCltg
— Nikhil Anand (@NikhilAnandBJP) January 14, 2023
It may be noted that opposition parties have, on multiple occasions, compared PM Modi to Ravana through their posters.  In 2019 as well, posters depicting Rahul Gandhi as Ram and PM Modi as Raavan had surfaced ahead of a Congress rally in Madhya Pradesh.