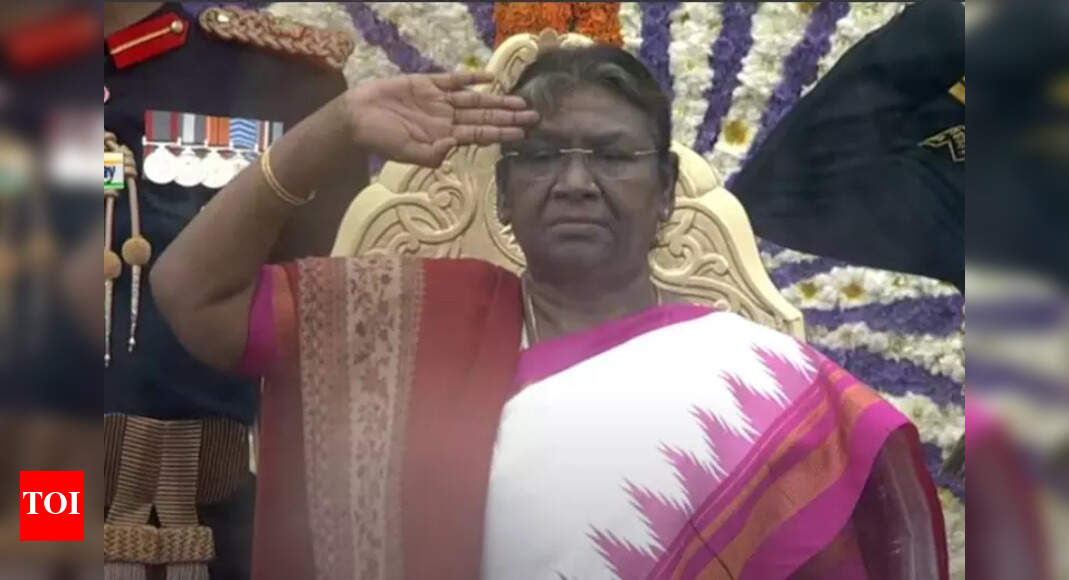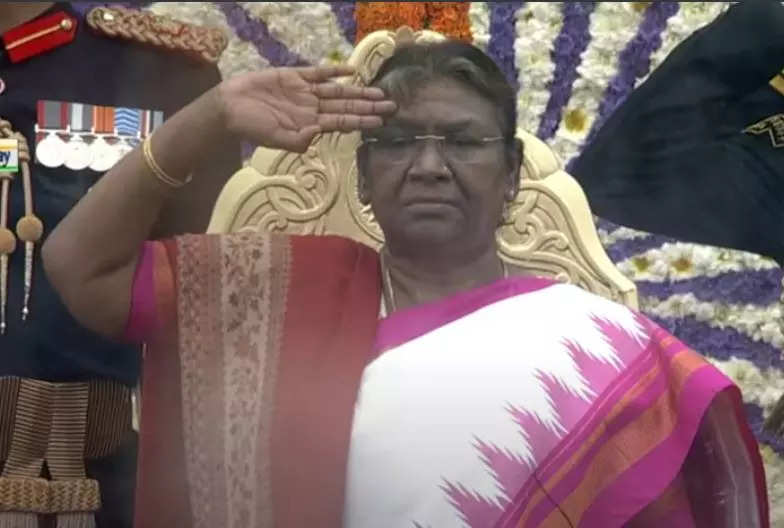 NEW DELHI: President Droupadi Murmu on Thursday officiallt began the celebrations of the 74th Republic Day, for the first time since assuming office last year, by unfurling the national flag at Kartavya Path.
Keeping with traditon the unfurling of the Tricolour was followed by the national anthem and a customary 21 Gun Salute. It was for the first time that the 21 Gun Salute was given with 105 mm Indian Field Guns. It replaced the vintage 25-pounder gun.
The Gun Salute was presented by the Ceremonial Battery of 871 Field Regiment. The ceremonial battery was commanded by Lieutenant Colonel Vikas Kumar, SM. The Gun position officer was Naib Subedar Anoop Singh.
Delhi | President Droupadi Murmu leads the nation in celebrating Republic DayEgypt's President Abdel Fattah al-Si… https://t.co/i2mkTQsTph

— ANI (@ANI) 1674709404000
The President on her arrival at Kartavya Path was received by Prime Minister Narendra Modi. The National Flag was unfurled at Kartvya Path by an Air Force Officer, Flt Lt Komal Rani. Simultaneously, the National Anthem was played and the 21 Gun Salute was presented to the President.
President Murmu was earlier escorted from her residence by the President's Bodyguard on their Bay and Dark Bay-coloured mounts. The President's Bodyguard is the seniormost Regiment of the Indian Army.
This year's Republic Day is special as 'The President's Bodyguard' marked 250 years since its raising, in 1773, at Varanasi.
The Commandant of the President's Bodyguard, Colonel Anup Tiwary, rode to the right of the President's Car, leading this elite body of horsemen, mounted on his charger Glorious.
To the left of the President's Car was the Second-in-Command of the Regiment, Lt Col Ramakant Yadav, mounted on his charger Sultan. It is the senior-most Cavalry Regiment carrying out mounted ceremonial duties for the President.
President of Egypt Abdel Fattah El-Sisi is the Chief Guest at this year's parade.
(With inputs from ANI)