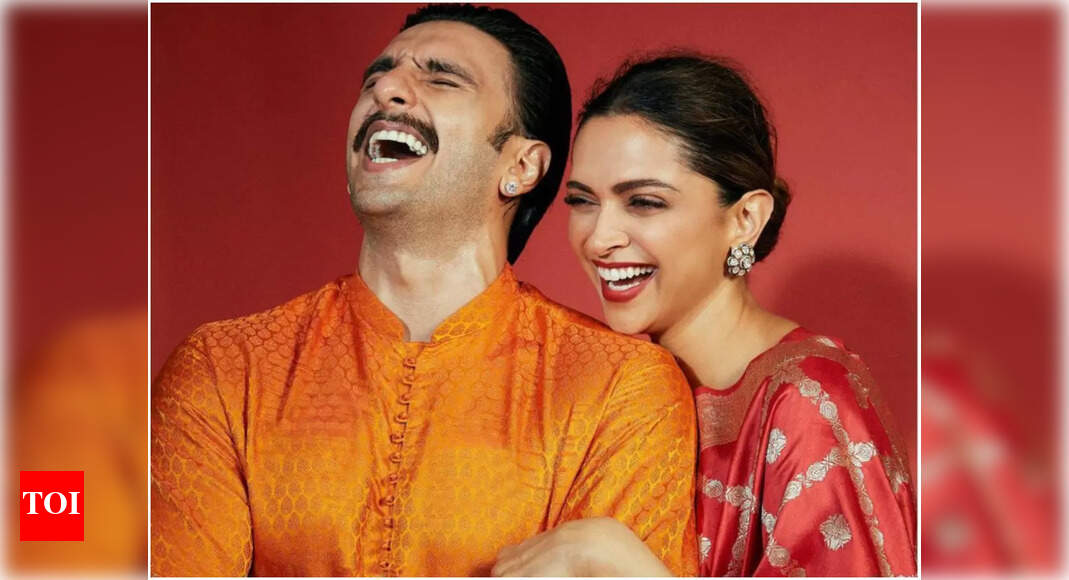 Ranveer Singh is on a high after his stupendous performance of essaying Kapil Dev in Kabir Khan's '83' produced by Reliance Entertainment, Sajid Nadiadwala, Deepika Padukone, and
Vishnu Vardhan Induri
. In this interview with ETimes which poses him with several questions, he drops a big bomb that his wife Deepika Padukone finds him different every 6 months. Why does this happen? Since how long has this been happening?
Ranveer Singh further has something to say about Sanjay Leela Bhansali, Karan Johar, Rohit Shetty, Zoya Akhtar and Arjun Kapoor too. And hey, he dwells into talking about his new offers and films on floors which takes the chat to Dharmendra, Shabana Azmi and Jaya Bachchan. Watch the video for this revealing conversation which also goes deep into his craft as an actor:

Here are the excerpts:
It's almost 11 years since you made your debut. It's been a fantastic journey, right?
Yes, it has been fantastic. I was launched by Yash Raj and it all just got going. I have got to work with Sanjay Leela Bhansali, Rohit Shetty, Karan Johar, Zoya Akhtar, Kabir Khan, Shankar – some of the biggest names in our industry. I have got a chance to be moulded by them and I am grateful to them and of course, the audience who has given me so much love. The echo of my versatility is increasing to an unprecedented volume. I have had the liberty of taking high risks. This all fills me up with enthusiasm and energy to set myself for the next 10 years.
But doesn't all this put pressure on you as an actor?
Not really. I am realistic about my expectations. Being an actor gives me immense joy. 10 years down the line, I might have been jaded and wanted to explore other avenues. But no, I am thirsting for more. I remember what Bhansali in particular infused in me – that an actor can keep exploring and expanding his craft continuously. Really, I don't see it as pressure.
But in such a scenario, are you able to come out of your characters especially because you have played quite a many which are varied? Shahid Kapoor told us last week that he doesn't take time to come out of them once the camera says 'Cut'…


I am somebody who goes deep into his character to develop it. My entire vibration that I exude, changes with the new character that I get into. My wife Deepika (Padukone) is very patient with me. She does lovingly complain that she gets to see a new human being every 6-8 months. I joke with her back that variety is the spice of life, at least she isn't getting bored with the same kind of person. There's a certain core about me that she is privy to. I layer out different layers as I get into different characters, but she understands this. My diet, body language, temperament, responses – all change. Sometimes I feel I am still finding out who I am.
Success is accompanied by rivalry and jealousy. Have you experienced that? Have you made real friends in the industry?
I don't feel envious of anybody. I never look upon this business as competition. I am here to also clap and applaud at what others are creating.
I have friends who have known me for 30 years. Coming to the film industry – Arjun Kapoor, Karan Johar, Zoya Akhtar, Rohit Shetty are my friends. Rohit and Arjun are like brothers to me.
I meant, jealousy and rivalry coming from outside…
There are talents that you may see from the outside as rivals, but that's who the media sometimes have generated as. I have seen the same people sharing their heartfelt appreciation towards me and I feel the same for them.


Are you telling me that you haven't experienced any negativity?


My guardian angel – a supernatural and spiritual power protects me, does not allow the negative vibrations to reach me.
Over to '83'. Tell us about the challenge of recreating the Tunbridge Wells innings considering that there is no existing footage of that innings. Is it also strange now that the only visual record of Kapil Dev's 175* is your enactment of it, and did that add to the pressure of shooting it?


That's really surreal (shrugs in happiness). Credit goes to Kabir. He is a very in-depth and meticulous filmmaker. He decided to shoot the scenes of Tunbridge Wells in Tunbridge only – same stadium and same ground. Kapil was in the stadium in his cameo role. It was an unforgettable experience. I was watching him at the premiere for his reaction on this one and he was in tears.
What was the one surprising thing that you found out about Kapil Dev, the person, only while doing this movie?
He is a very mischievous person. He is witty. He is very young at heart.
With Kapil Dev being so larger than life, and with you being the biggest star amongst the actors playing the cricketers, was there a danger of the movie becoming more about the individual rather than the team? As an actor, how did you navigate that? Lead actors ask to be centrally placed…


I have been a very secure actor. I am a secure person. I do 2-hero films. I do ensemble films. I know what you are saying and I won't say that I haven't been at the receiving end, wherein an actor has tried to upstage me. But I always go by the example that a leader has to give tools and space so that they have moments to shine. Else how will the film get lifted to a good level? Someone very close to me told me that Kabir's casting in '83' is a chain of diamonds with me at the centre – wherein each one's radiance reflects on others.
If you had to do another biopic of any other sportsperson, who would you want to play?
(Smiles) I am in discussion for 5 biopics. Three of those biopics are of sportspersons.
We have heard that one of those three is that of a paraplegic swimmer…
I guess we should rather wait and give this time, those 5 biopics are all in different stages of development and hopefully one of them will develop into an extraordinary script and you will hear an official announcement soon.
Coming back to '83'. The cricket sequences were shot exactly the way cricket matches at that time were shot—and that is very different from how most movies are shot. How was this experience different for you as an actor, did it change the way you had to emote or perform?
I had no qualms. I had a blast. It gave me great joy to be in cricket white. I loved bowling, batting and even fielding. It would have been a trudge if I had been saddled with a bunch of boring actors. Credit of this goes to the entire team of '83' that kept the mood on the sets so motivated, lively and memorable.
To conclude, how would you term your shoot with Dharmendra, Jaya Bachchan and Shabana Azmi?
I would term it as a blessing. To be with such big icons and legends on the sets of 'Rocky Aur Rani Ki Prem Kahani' is a huge honour. It has been an honour to also work with Anil Kapoor, Akshay Kumar and Ajay Devgn. I will talk to you about my first day of shoot with Dharmendra at a later date.