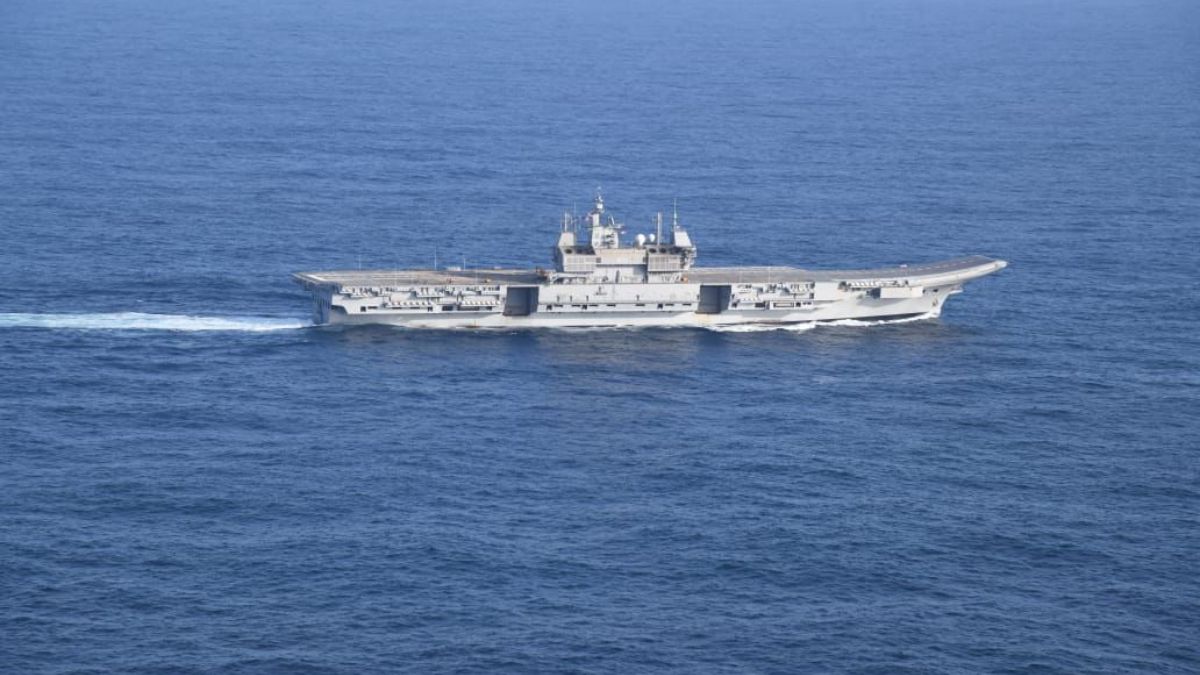 [ad_1]

Naval Commanders Conference: Defence Minister Rajnath Singh, the Navy Chief and over 20 commanders of the Indian Navy will discuss future warfare from operations to logistics and the Agneepath scheme onboard INS Vikrant, the indigenous aircraft carrier. The presence of Chinese ships is increasing day by day in the South China Sea and Indian Ocean. The Navy chief assured that they are monitoring the situation. The matter of concern for the moment is Indian Navy, domination, operational capability, logistics also enhancement and showing power under make in India.
More than 20 naval commanders, including the Andaman Nicobar command commander, have participated in this conference. Defence Minister Rajnath Singh will address the first session on March 6 at 10 AM. The decision to hold the conference onboard INS Vikrant came in view of Prime Minister Narendra Modi's long vision that commanders' conferences should not be restricted to Delhi only. It should go to the other operational area. Earlier in 2015, the naval commander conference took place in INS Vikramaditya. Now it's time for INS Vikrant after it's six months of induction.
All senior officials with Defence Minister Rajnath Singh will board the aircraft carrier at Goa to attend the biannual naval commanders' conference on March 6. Only the opening day of the five-day conference will be held at sea. The main focus of the discussion this time is the Agneepath scheme and the woman in Agneepath which is known to be Agniveer too. Along with this, The discussions at the conference will cover issues related to operations, combat readiness, logistics, training, human resource development, jointness and training.
The developments in the Indian Ocean region, where China seeks to increase its presence, are also likely to be discussed, the rarely are such top conferences held on board warships. In December 2015, Prime Minister Narendra Modi chaired the combined commanders' meeting on board INS Vikramaditya, India's other aircraft carrier, off the Kochi coast. That was the first time the combined commanders' conference, involving the top brass of the three services, was held on board an aircraft carrier. Modi has been in favour of significant events being held outside the national capital.
INS Vikrant has their own strategic importance so for this DRDO and others or trying to takeoff and landing with their own fighter aircraft which includes light combat aircraft, Tejas Marine version along with this Russian origin, mig29 Kand also landed and takeoff successfully on INS Vikrant. so now there is a fight to take more fighter aircraft for the Navy so there is a long competition and big competition between French Rafale marine virgin and F 18 super hornet. This modernisation and making in India would also be part of the discussion at the commanders' conference.
ALSO READ | Historic! Navy's Light Combat Aircraft, MiG-29K jets land, take-off on INS Vikrant | WATCH
ALSO READ | Rajnath Singh confirms work in progress to build country's 2nd aircraft carrier after INS Vikrant


[ad_2]

Source link