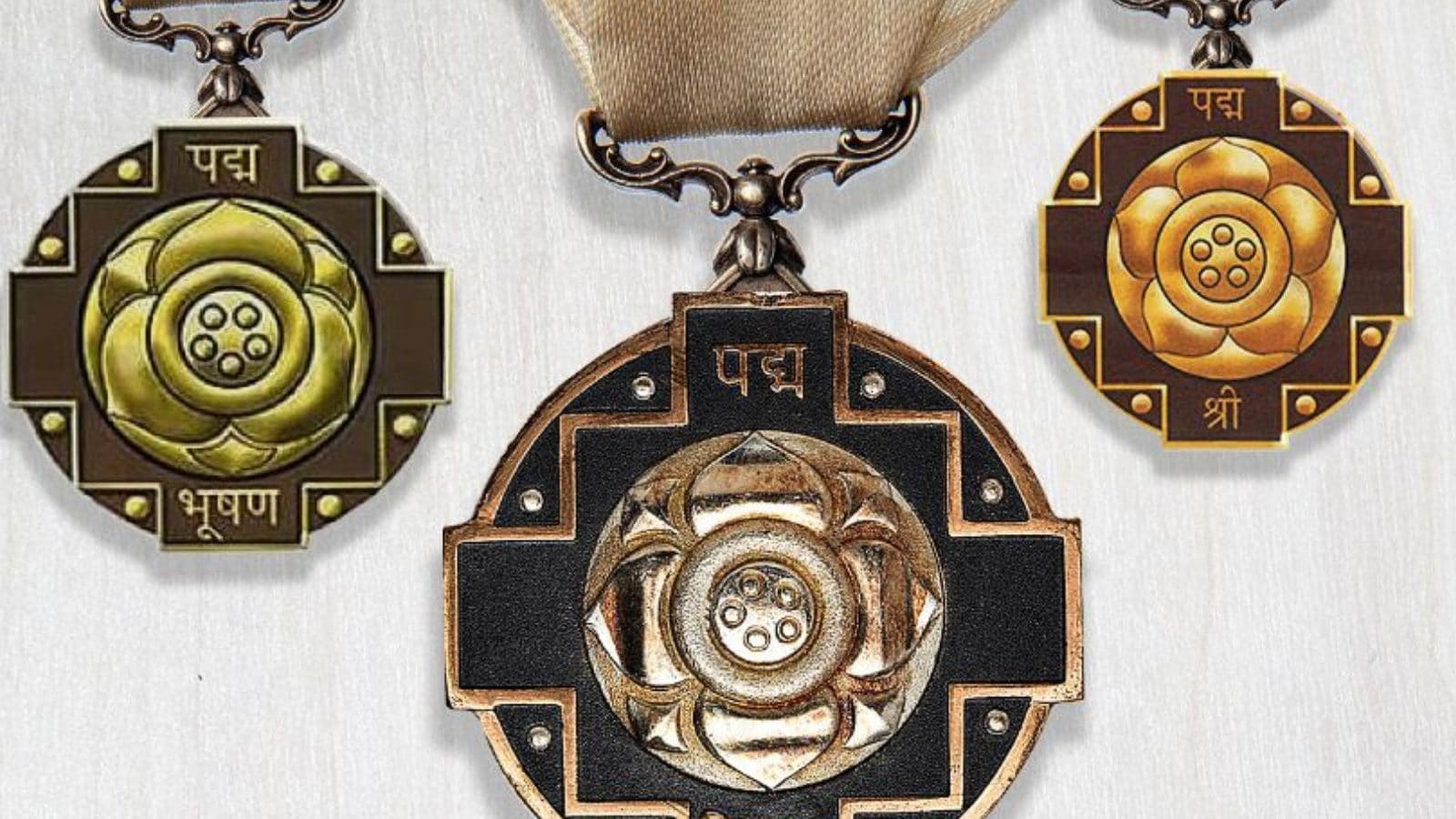 On the eve of Republic Day, the Centre announced the names of 26 unsung heroes for coveted Padma awards. Medical professional Dilip Mahalanabis, who promoted the worldwide use of Oral Rehydration Solution (ORS) saving over five crore lives globally, will be posthumously given this year's Padma Vibhushan, while 25 others will be given Padma Shri award.
One of the highest civilian awards in the country, Padma Awards are conferred in three categories — Padma Vibhushan, Padma Bhushan, and Padma Shri. It is given in various disciplines including art, social work, public affairs, science and engineering, trade and industry, medicine, literature and education, sports, civil service, etc. Padma Vibhushan is awarded for exceptional and distinguished service; Padma Bhushan for distinguished service of high order and Padma Shri for distinguished service in any field.
The awards are announced on the occasion of Republic Day every year.
Issuing an official statement, the Ministry of Home Affairs (MHA) said, "These Awards are conferred by the President of India at ceremonial functions which are held at Rashtrapati Bhawan usually around March/April every year. For the year 2023, the President has approved the conferment of 106 Padma Awards including 3 duo cases (in a duo case, the award is counted as one) as per the list. The list comprises 6 Padma Vibhushan, 9 Padma Bhushan, and 91 Padma Shri Awards. 19 of the awardees are women and the list also includes 2 persons from the category of Foreigners/NRI/PIO/OCI and 7 Posthumous awardees."
Here's a short profile of 25 unsung heroes honoured with Padma Shri this year:
1. Ratan Chandra Kar:
Named "Jarawa ke Jeevandata", he is a 66-year-old retired government doctor from Andamans working with the Jarawa tribe who inhabit an island 48 km from North Sentinel to receive Padma Shri in the field of Medicine (Physician).
He treated Jarawas during the measles epidemic of 1999 and brought them back from the verge of extinction, contributed to increase in population from 76 to 270. He closely observed and documented their culture and tradition in his book called 'Andamaner Adim Janajati Jarawa'.
2. Hirabai Lobi:
Named "Siddi Ni Shakti", she is a Siddi tribal social worker and leader, who has dedicated her life for the betterment of the Siddi community in Gujarat. She has been awarded with Padma Shri in the field of Social Work (Tribal).
She provides education to children of the Siddi tribe through the many Balwadis she has founded. This 62-year-old woman promotes financial independence among Siddi women through her foundation Mahila Vikas Mandal. Orphaned at a young age, she was raised by her grandmother.
3. Munishwar Chander Dawar:
The 76-year old war veteran and doctor from Madhya Pradesh's Jabalpur has been treating underprivileged people for the past 50 years. Known as "Dawar ki Dawa", he has been awarded Padma Shri in the field of Medicine (Affordable Healthcare).
He is selflessly treating the poor and weaker section of the society at an affordable cost of Rs 20, up from Rs 2 in 2010s. He is a retired Indian Army doctor who has served in 1971 War.
4. Ramkuiwangbe Newme:
This 75-year-old Naga social worker from Dima Hasao has dedicated his life for the conservation and preservation of Heraka religion. He has been awarded Padma Shri in the field of Social Work (Culture).
He protected and promoted Heraka indigenous culture through awareness camps and programs. He has established 10 primary schools and encouraged education for women. He has also transcripted 'Tingwang Hingde' of Heraka religion.
5. VP Appukuttan Poduval:
Named "Kannur ke Gandhi", he is 99-year-old and a Gandhian and freedom fighter from Kerala's Payyanur. He has been awarded Padma Shri in the field of Social Work (Gandhian).
He actively participated in the Quit India Movement in 1942 and working tirelessly and selflessly to uplift the
lives of the weaker sections of the society for the past eight decade. He is a proponent of Khadi and a well known
Sanskrit scholar.
6. Sankurathri Chandra Sekhar:
He is a 79-year-old Kakinada-based social worker, who has dedicated his life to providing free medical and education services to needy people. He has been awarded Padma Shri in the field of Social Work (Affordable Healthcare).
After loosing his wife and two children in the Air India Kanishka bombing, he channelized his grief into a lifelong commitment towards betterment of society. He is instrumental in the treatment of over three lakh eye patients, with 90 per cent surgeries are free. He provided free education to more than 3,500 children from economically weaker sections.
7. Vadivel Gopal and Masi Sadaiyan:
Expert snake catchers from Irula Tribe in Tamil Nadu, they are specialised in catching dangerous and venomous snakes. They will receive Padma Shri in the field of Social Work (Animal Welfare).
Known as "Global Snake Experts", they travelled globally to catch snakes and train snake catchers in other parts of the world despite lacking formal education. They use old snake catching techniques inherited as indigenous knowledge from their forefathers. Collectively, Irula tribe plays an important role in the healthcare ecosystem in India, through antivenoms collected.
8. Tula Ram Upreti:
This 98-year-old self-sustained small farmer, practicing organic farming using only traditional methods to receive Padma Shri in the field of Others (Agriculture).
Named "Jaivik Kheti ke Prerak", he is doing so since childhood, six decades before the Sikkim government formed Sikkim Organic Mission. He is providing training and inspiring other farmers to adopt natural farming techniques. He has reduced dependency of farmers on agrochemical industry. He is engaged in farming with his wife Benu Maya
Upreti, now deceased.
9. Nekram Sharma:
This 59-year-old organic farmer from Himachal Pradesh's Mandi is reviving the traditional crop system of 'Nau-Anaj'. He will receive Padma Shri in the field of Others (Agriculture).
Nau Anaj is a natural intercropping method in which nine food grains are grown on the same piece of land, without any chemical usage, cutting down water usage by 50 per cent and raising land fertility. Named "Nau Anaj ke Nayak", he is inspiring other farmers to follow the same. He is also producing local indigenous seeds, distributing to more than 10,000 farmers in six states at no cost.
10. Janum Singh Soy:
Tribal Ho language scholar, working for four decades for its preservation and promotion to receive Padma Shri in the field of Literature and Education (Ho language). This 72-year-old Jharkhand native has authored six books on culture and lifestyle of the small Ho tribe. He has pioneered Ho as formal course in language, with his work a part of PG curriculum. Named "Hero of Ho", he got retired from Kolhan University.
11. Dhaniram Toto:
This 57-year-old man is a Toto (Dengka) language preserver from Totopara village of Jalpaiguri district in West Bengal. He will receive Padma Shri in the field of Literature and Education (Dengka language).
Despite lacking any formal training as a Linguist, he is the architect of the Toto language script, preserving the indigenous language. The language now has 37 alphabets. Named "Triumph of Dengka", he is the first author to write a novel in Toto language. Toto (Dengka), is a dying language listed as highly endangered by UNESCO.
12. B Ramakrishna Reddy:
Named "Bhasha Rakshak", this 80-year-old Linguistics Professor from Telangana will receive Padma in the field of Literature and Education (Linguistics).
In his decades of perseverance, he has made immense contributions towards preservation of Tribal and Southern languages like Kuvi, Manda and Kui. He is building a cultural bridge connecting Tribal languages with other languages. He has drafted Manda-English Dictionary and KuviOriya-English Dictionary while also coauthoring five books towards this cause.
13. Ajay Kumar Mandavi:
He is a 54-year-old Gond tribal wood carver from Chhattisgarh's Kanker. He will receive Padma Shri in the field of Art (Wood Carving).
Named "Carver of Kanker", he is actively rehabilitating misguided people in LWE affected regions by teaching them the art of wood calligraphy – more than 350 lives have been transformed. He is inspiring youth to drop the gun and pick up the chisel to learn wood calligraphy. He has helped around 400 youth get livelihood through his self help group 'Shanta Art Group', making them Aatmanirbhar.
14. Rani Machaiah:
The 79-year-old Ummathat folk dancer from Karnataka's Kodagu has been promoting and preserving Kodava culture through dance and will receive Padma Shri in the field of Art (Folk Dance).
Named "Ummathat ki Rani", she is a former president of Karnataka Kodava Sahitya Academy and has been training women artist in Ummathat Folk dance.
15. KC Runremsangi:
This 59-year-old Mizo folk singer from Mizoram's Aizwal has been safeguarding Mizo cultural heritage for over three decades and will receive Padma Shri in the field of Art (Vocals – Mizo). Named "Queen of Mizo Folk", she is a very popular singer, who performs all over the country. She has been credited with recording many Mizo folk songs and received her initial training from elders and later through Institute of Music and Fine Arts. She has received Sangeet Natak Akademi Award in 2017.
16. Risingbor Kurkalang:
Named "Master of Duitara", this 60-year-old Tribal Duitara instrument maker and musician from Meghalaya's East Khasi Hills will receive Padma Shri in the field of Art (Folk Music).
He has been popularizing Khasi folk music and instruments (Saitar and Duitara) across the world. Duitara is a four-stringed Khasi-Jaintia musical instrument, crafted using jackfruit tree and Muga silk – making it a lucrative source of rural livelihood.
17. Mangala Kanti Roy:
This 102-year-old Sarinda Player from West Bengal's Jalpaiguri, popular as one of the oldest folk musicians of the state, will receive Padma Shri in the field of Art (Folk Music). He is popular for producing unique bird calls through Sarinda. Named "Sarinda Ke Sartaj", he has been promoting and preserving the Sarinda instrument for eight decades through workshops and performances.
18. Moa Subong:
An eminent Naga musician and innovator who developed a new and easy to play instrument 'Bamhum', a wind musical instrument made from bamboo, will receive Padma Shri in the field of Art (Folk Music). Named "Tunes of Bamhum", he founded Abiogenesis, a musical band that fuses traditional Naga music with modern rock music, along with his vocalist wife.
He has created a new music genre named Howey and another instrument called Tikzik.
19. Munivenkatappa:
The 71-year-old veteran Thamate exponent from Karnataka's Chikkaballapur, who has been working tirelessly towards the preservation and promotion of the folk instrument Thamate, will receive Padma Shri in the field of Art (Folk Music).
Thamate is a percussion instrument (hand drum) from Old Mysore region. He leads artists showcasing the traditional instrument across the state and nation. Named "Thamaṭeya Tande (Father of Thamata)", he started playing Thamate at age 16 and now trains young and upcoming artists despite the social stigma attached to it.
20. Domar Singh Kunvar:
Named "Natya Nach ke Nayak", this 75-year-old Chhattisgarhi Natya Nacha artist, dedicated his life to keeping the tradition alive since last 5 decades, will receive Padma Shri in the field of Art (Dance).
He essays the role of Sultana Daku who fought against British imperialists. He has performed plays in 13 dialects and languages and given over 5,000 presentation across India. Through his plays, he spreads awareness about eradicating superstition and social evils like child marriage.
21. Parshuram Komaji Khune:
This 70-year-old Zadipatti Rangbhumi artist from Maharashtra's Gadchiroli, having played 800 different roles in more than 5,000 drama shows, to receive Padma Shri in the field of Art (Theatre).
Zadipatti is a folk theatre performed during the harvest season of rice cultivation in Maharashtra. He has worked for rehabilitation of misguided youth in LWE affected areas by engaging them in folk culture. He spreads awareness on social issues like alcohol de-addiction, hygiene, eradicating superstitions.
22. Ghulam Muhammad Zaz:
He is the eight generation santoor craftsman from a family known for making the finest santoors in Kashmir for the last 200 years to receive Padma Shri in the field of Art (Craft). Named "Santoor ke Sartaaj", he is 81-year-old from Jammu and Kashmir and dedicated seven decades in crafting stringed instruments, keeping the family legacy alive. These instruments are known for their long lifespan, with many of them lasting for over a century.
He also makes other stringed instruments like Rabab, Kashmiri Sitar and Sarangi.
23. Bhanubhai Chitara:
He is seventh generation Kalamkari artist from the Chunara community in Gujarat, carrying forward the legacy of the 400-year-old traditional craft of Mata ni Pachedi (behind Mother Goddess) to receive Padma Shri in the field of Art (Painting).
Named "Kalamkari Chitara", he is 66-year-old and his each painting has a story inspired by mythological epics such as Mahabharata and Ramayana. He played critical role in promoting the art form through 200 workshops and exhibitions across India and the world.
24. Paresh Rathwa:
This 54-year-old Pithora artist from Chhota Udepur in Gujarat has been promoting the ancient cultural heritage and will receive Padma Shri in the field of Art (Painting). Pithora is a 12,000-year-old tribal folk art, created as divine offerings to Lord Pithora (God of food grains).
Immense contribution showcasing this art globally, including in 30 exhibitions. He has been creating awareness about the age old tradition by providing online and offline training to students.
25. Kapil Dev Prasad:
This 68-year-old Bawan Buti handloom weaver from Nalanda district in Bihar to receive Padma Shri in the field of Art (Textile). He depicts ancient Buddhist symbols in his craft through 52 butis in each woven item. He has contributed in reviving and promoting the Bawan Buti Weave over five decades. He weaves various products including sarees.
Read all the Latest India News here