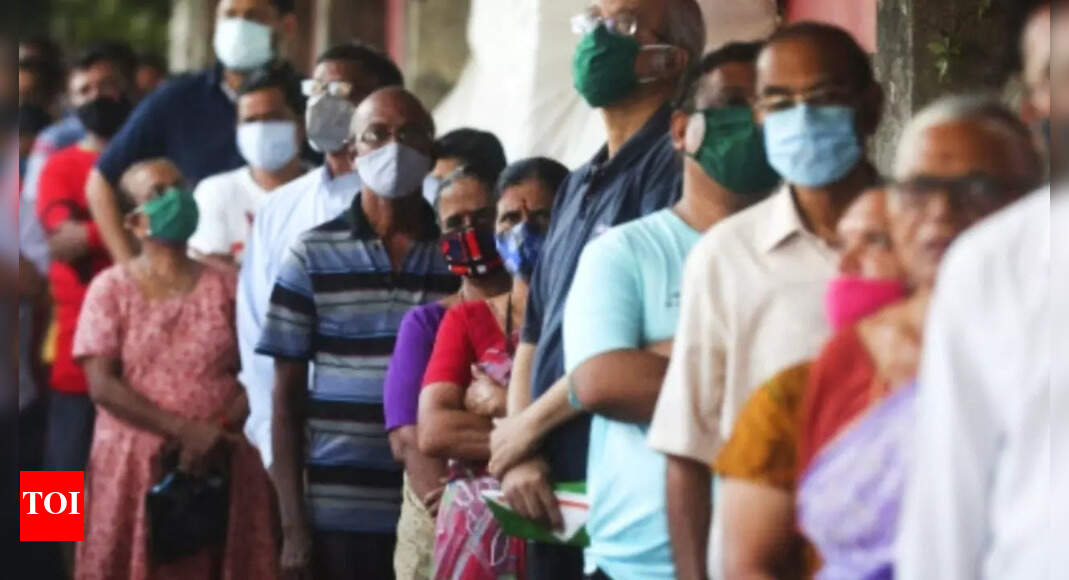 NEW DELHI: With over 13,000 new cases, India's
Covid
count has risen by over 40% in a day. As per government data updated on Thursday, the country has reported 961
cases
of the new variant so far.
Spike in daily cases
In the last 24 hours, India has registered a total of 13,154 cases of Covid-19, the health ministry data showed on Thursday, pointing at a significant spike of over 40% that the previous day. The active caseload in the country has also seen a rise with 5,400 cases pushing the count to 82,402.
Record jump in daily Omicron cases
India has also recorded a dramatic surge in its Omicron tally by logging more than 200 cases on Wednesday on the back of both Maharashtra and Delhi reporting their highest single-day infections even as regular Covid-19 cases — which, unlike Omicron, can be detected within a day — breached previous daily records in several states.
In what could signal the start of Omicron's community transmission, many states confirmed that a large number of patients neither had any recent travel history nor were they contacts of the affected patients of the highly transmissible variant.
Omicron cases account for 46% of total Covid cases in Delhi
Delhi health minister Satyendar Jain on Thursday said that Omicron infections account for 46% of the total Covid-19 in the national capital, as per a latest genome sequencing report.
"People with no travel history have been found infected with Omicron. This means it is gradually spreading in community," Jain said. Delhi hospitals have 200 Covid patients, of which 102 belongs to city and 98 are from outside, he said. "Of the 200 Covid cases in Delhi hospitals that include international travellers, 115 are asymptomatic and hava been admitted as a precautionary step," the minister also said.
86% single-day jump in Covid in Delhi
Delhi recorded 923 new Covid-19 cases on Wednesday, a jump of 86% from fresh cases recorded a day ago and the biggest single-day spike since May 30. The test positivity rate was1. 29%, the highest since May 28.
The new cases recorded in the last 24 hours were from 71,696 tests, including 64,233 RT-PCR, CBNAAT, TrueNat tests and 7,463 rapid antigen tests. The last time the capital cases in a single day was on May 30, when 946 cases were seen with a positivity rate of 1. 25%.
New cases nearly double in Mum and Maha in 24 hours
Amid fears that the anticipated third wave has arrived in Mumbai, new Covid-19 detections almost doubled in the city and the state in just 24 hours. This came on Wednesday, when the state confirmed 38 cases of Omicron in Maharashtra without any of the patients with international travel history and Mumbai's positivity rate inched closer to 5%.
Section 144 imposed in Mumbai till January 7
Amid the rise in Covid-19 cases in the city, Mumbai police have imposed Section 144 to avoid large gatherings till January 7. As per the new Covid-19 restrictions, prohibition has been placed on New Year's celebrations, parties in any closed or open space including restaurants, hotels, bars, pubs, resorts and clubs from December 30 to January 7.
Bengaluru cases highest in 4 months, Karnataka's in 87 days
Bengaluru city recorded 400 new Covid-19 infections on Wednesday, up from Tuesday's 269, an almost 50% spike. The increase was sharper, nearly 60%, in Karnataka where the number of daily infections jumped from 356 to 566 in a day.
Health officials, however, sought to play down the surge, saying the rate of hospitalisation at less than 15% is quite low. The severity of infection is low even as the number of cases are seeing a spike, they said. Some officials said the spike was indicative of a third wave in the offing.