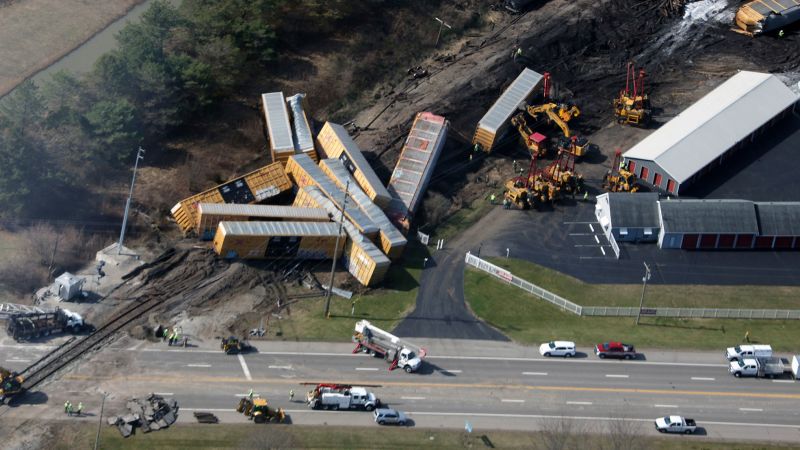 [ad_1]




CNN
 — 

Norfolk Southern found loose wheels on a series of rail cars involved in last week's derailment near Springfield, Ohio, the company has announced, the latest safety problem to emerge as scrutiny intensifies on the operator – and US freight safety broadly – following that wreck, a toxic derailment five weeks ago in another Ohio town and a derailment Thursday in Alabama.
In probing the Springfield wreck scene Sunday, the company "determined that a specific model and series of rail cars had loose wheels, which could cause a derailment," officials said Thursday in a statement, calling it an "urgent railcar safety issue."
Norfolk Southern also found cases of "unusual wheel movement" on other cars it runs in the same "recently acquired" series – which other rail operators also use – the company said in a statement that did not name the manufacturer.
As a result, the Association of American Railroads issued an advisory to halt the use of these cars until they can be inspected for the wheel sets in question. It instructs railroad companies to inspect and remove wheel sets "mounted by National Steel Car" between August of 2022 and March of 2023 because "these wheels sets are at an increased risk of an out of gage derailment," states the advisory, which the trade group sent to CNN.
National Steel Car did not immediately respond to CNN's requests for comment.
Norfolk Southern has taken steps to remove this model and series from service until they can be fully inspected, it said.
"The investigation into the cause of the accident is still underway," the company said.
Norfolk Southern this week announced a six-point safety plan, including a revamp of its system that detects overheated wheel bearings, and its CEO was grilled Thursday by a key US Senate panel about health and safety concerns following the February 3 derailment and toxic spill in East Palestine.
In the meantime, a bipartisan group of senators has proposed a new bill aimed at shoring up rail safety. Without endorsing all provisions of the Railway Safety Act of 2023, CEO Alan Shaw told senators that Norfolk Southern is "committed to the legislative intent to make rail safer."
After the loose wheels were discovered during cleanup of the March 4 derailment in Springfield, Norfolk Southern informed the National Transportation Safety Board and the Federal Railroad Administration, and "began inspecting other cars from this series on our network," its statement read.
"We also notified the manufacturer and worked urgently to inform the rest of the railroad industry, as Norfolk Southern is not the only user of these cars," it said.
Nothing spilled from cars that derailed on Saturday, and there was no environmental harm, authorities said, though the wreck knocked out power temporarily nearby.
While Shaw testified on Thursday, crews responded to the Alabama derailment some 90 miles east of Birmingham. No waste or leak resulted after the derailment of 37 cars, mostly carrying mixed freight, Norfolk Southern spokesperson Connor Spielmaker said, adding two of the cars previously had hauled hazardous material.
The NTSB responded to the scene, he said.
[ad_2]

Source link