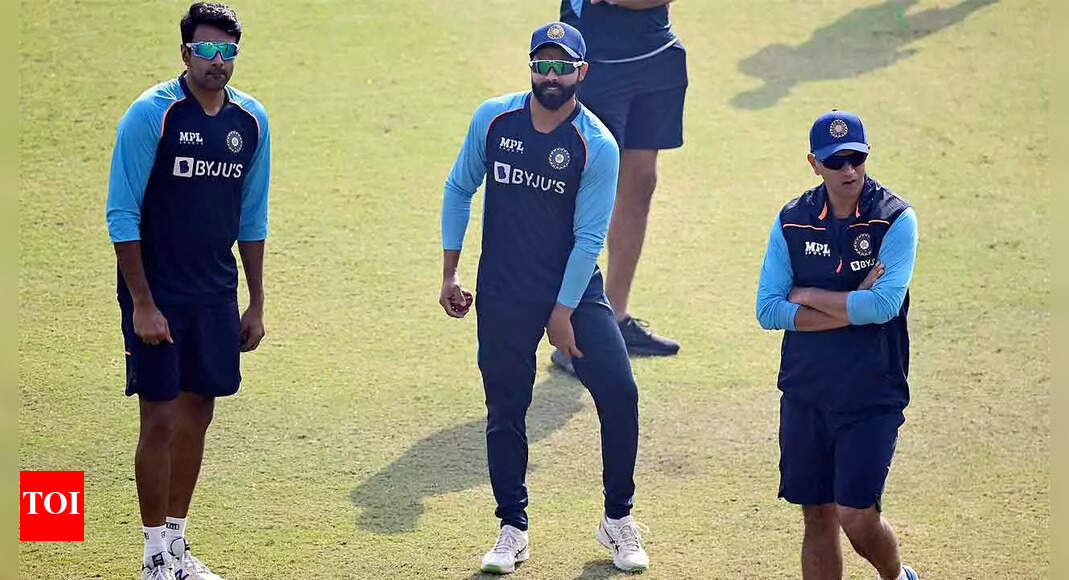 Ravichandran Ashwin
has gone past
Harbhajan Singh
's record of 417 Test wickets. He has taken 23 less Tests than
Harbhajan
to become India's third-highest wicket-taker in Test cricket. The toil to get to the landmark on Monday on a rather benign
Green Park
pitch saw him showcase every component from his repertoire. But
Ashwin
and Indian spinners had just low bounce to work with.
The traditional line and lengths on a fifth day pitch did not trouble the New Zealand top order, which ambled towards playing out an easy draw for much of the day. The only weird trick that the fifth-day pitch played was when Tom Blundell's immaculate forward defence hit the rough patch and rolled back on to the stumps. That was Ashwin's moment when he went past Harbhajan.
The Indian camp, having declared their wish to play on turning tracks, waited for the pitch to break up and play tricks. It never happened in this Test.
New Zealand skipper Kane Williamson had a sheepish smile while admitting the slowness in the pitch helped them pull off a draw. "The pitch managed to hold on. But only just, as did we," he said while mentioning that his team was constantly navigating to find a way to chase the target down but the pitch made it too difficult.
"We showed great composure and fighting spirit and worked really hard in that final session. It was quite an unresponsive pitch on the fifth day and (it was a) really good effort to have taken eight wickets after lunch," India head coach Rahul Dravid said after the day's play.
"It was low and slow and probably it didn't have that much bounce or didn't have turn. You expect a little bit more wear and tear on fifth day in Indian conditions over the course of five days. This didn't seem to have that kind of bite," he added.
It's a rarity that the outside and inside edges of the bat were out of play. There were men crowding the batters but none of the edges carried remotely close to the fielders. The one off Jamieson's bat which did in the last hour to Cheteshwar Pujara at leg-gully, was spilled because he was standing too close to the bat.
"Generally, in India on Day Five, spinners can challenge both edges – inside and outside. You know you can beat people on the inside edge and get lbw. But honestly, in this game, the outside edge was virtually ruled out. I have played in Kanpur and it stays low and slow. But I haven't seen it play so low and slow," Dravid said.