[ad_1]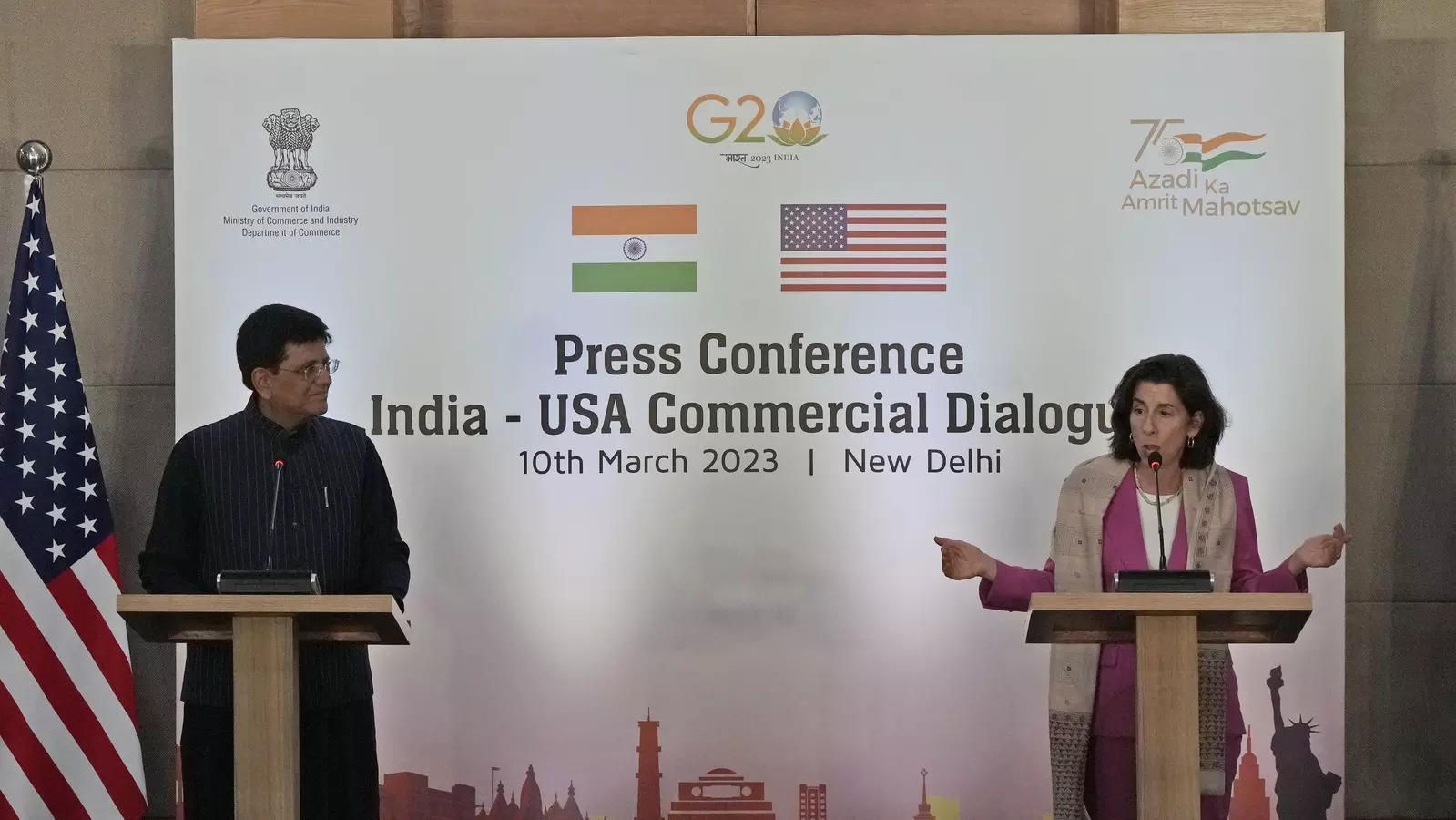 NEW DELHI: India and the US on Friday agreed to step up coordination for promoting trade and investment, especially by small and medium-sized enterprises and startups, according to a joint statement.
The statement was issued after India-US Commercial Dialogue and CEO Forum meetings here. US Secretary of Commerce Gina Raimondo was here on a four-day visit for the meetings.
The bilateral trade in goods and services between the two countries has almost doubled since 2014, exceeding USD 191 billion in 2022.
"With the US becoming India's largest trading partner in 2022, both sides will take further steps to enhance their commercial collaboration and tap into market potential across multiple sectors," the statement said.
"Both sides envision further coordination on how best to foster an enabling environment for increased investment, including by SMEs and start-up companies," it added.
Commerce and Industry Minister Piyush Goyal said Raimondo agreed to convene a meeting before the end of 2023 to review the progress in the priority areas identified under the dialogue.
They also discussed about concerns that cyber threats such as unauthorised access, ransomware and data destruction are growing, and the need to protect against those threats.
"Secretary Raimondo welcomed the opportunity to explore the potential for mutually beneficial engagement on cyber security and Artificial Intelligence (AI) as well as information sharing on cyber security and AI resources and approaches under established bilateral mechanisms such as the Commercial Dialogue," it said.
On facilitating climate and clean technology cooperation, the statement said that both sides have decided to facilitate greater connections between their industries to help meet the critical need of enhancing our countries' energy security and reducing greenhouse gas emissions.
"Minister Goyal noted India's interest in seeing greater US collaboration on increasing access to components in the solar power value chain, increasing investment in battery storage, and manufacturing offshore wind turbines," it added.
On promoting inclusive digital growth, the statement said both the leaders agreed to continue engaging on cross border data flows.
"Both sides intend to further work together in validation and deployment of trusted and secure next generation telecom network equipment, including Open RAN, as well as in subsequent generations of telecommunications infrastructure," the statement said.
Further on standards and conformance cooperation, it said the two ministers agreed to facilitate bilateral trade through improved information sharing and dialogue between the public and private sectors on technical regulations, standards, and conformity assessment procedures.


[ad_2]

Source link