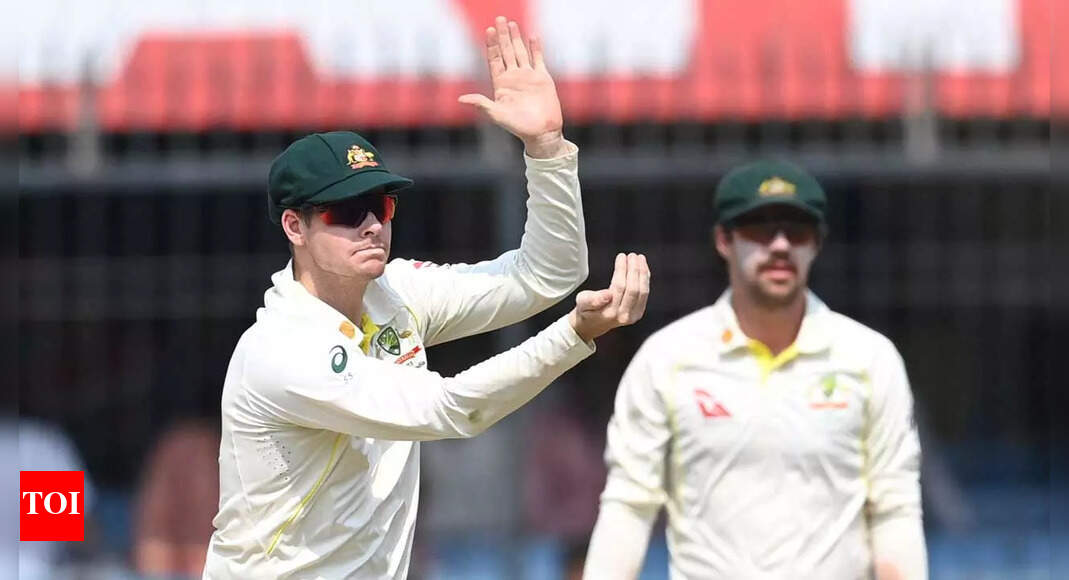 [ad_1]

INDORE: One doesn't know if the term 'match-winning captaincy' is a thing, but
Steve Smith
sure served up an example of it in the Indore Test.
In the process, he showed yet again that he is a natural in the leadership role, 'SanderpaperGate' controversy notwithstanding. Australian cricket may have paid a heavy price by denying him the top job for so long, except in situations where he stands in for Pat Cummins, like in the third Test here, and proves all over again how good he is tactically compared to the regular skipper.
Smith's captaincy here on a difficult surface has been pinpoint accurate, his choosing of ends for specific bowlers praiseworthy, and the constant shuffling of his band of merry men in catching positions designed to stifle opposition batters. Even his use of the DRS has been generally confident.
1/11
Indore pitch rated 'poor' after third Test ended inside three days
Pace legend Glenn McGrath hinted a few days back that "batters should always be captains", and Australia do have a long tradition of making their best batter the leader.
Smith has now led Australia to more Test wins in India than Mark Taylor, Ricky Ponting, Steve Waugh, Allan Border and Michael Clarke. He is among only five Australian captains to win two or more Tests on Indian soil. Bill Lawry leads the list with three wins, while Richie Benaud, Adam Gilchrist, Ian Johnson and Smith have two each. This is august company indeed and shows the extent of difficulty when it comes to winning a Test in India.
Australia have won two Tests in India over the past decade, and it's no coincidence both have come with Smith at the helm. So why isn't he the regular skipper even after having been punished for a past misdemeanour?
Now, the clamour for Smith to be made full-time captain will only increase.
Matthew Hayden has been vocal on air about Smith's "inspired" and "on-point" leadership.
"There's a confidence with him at the helm," he said.
1/10
India's run in World Test Championship cycle
Nathan Lyon said on Day Two of the Test how his "old mate" Smith had brought out the best in him.
On Friday, Smith dismissed suggestions he was looking for a fulltime role but did say he enjoyed being captain.
"My time is done. It's Pat's team now. I'm glad I've been able to stand in this week in the circumstances with Patty going home (to be with his mother, who is in palliative care)," he said.
"India is a part of the world where I love captaining. It's a game of chess, every ball means something. It's good fun moving people and trying to get the batter to think, just play games with them. It's probably my favourite place in the world to captain.
"Back home you're playing with a third slip or putting a third slip to cover or your square leg up or back. Sort of just stick to the same game plan. But (in) this part of the world you have to be really proactive. Every ball is an event and therefore can dictate what happens after, which is something that I really love and you've got to be ahead of the game. So I thought I did it well this week and it was good fun."
Smith's "good fun" can herald more good times for Australia. Now, if only forgiveness was a thing.


[ad_2]

Source link