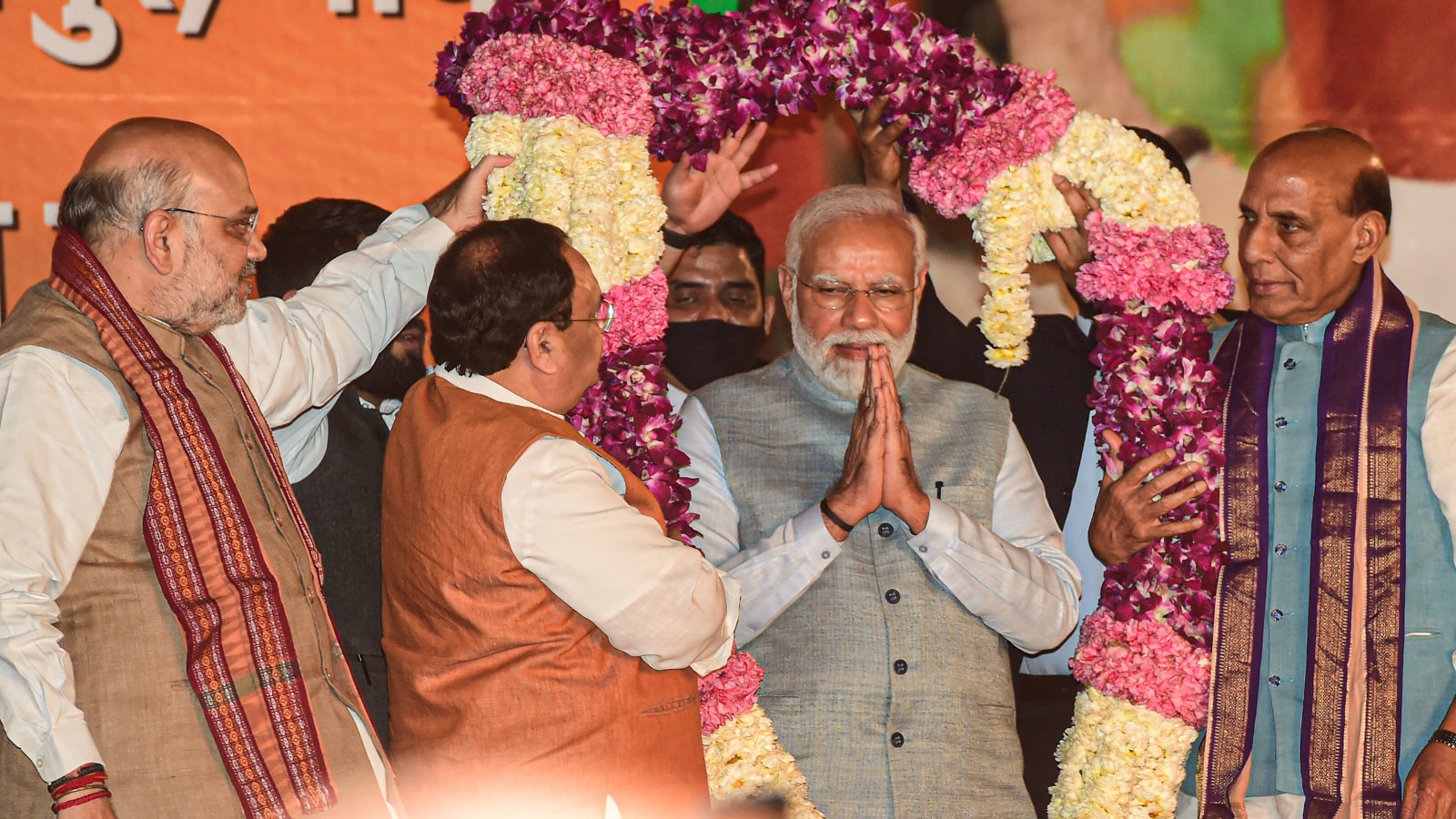 Edited By: Nitya Thirumalai
Last Updated: January 13, 2023, 11:39 IST
According to sources, a resolution on nine years of the Modi government and steps taken to improve the lives of the poor is likely to be brought in as well. (PTI/File)
Sources say a political resolution at the BJP National Executive will also set Assembly and Lok Sabha elections task list for leaders, while an economic resolution will compare India's growth under Narendra Modi against Manmohan Singh era
The Bharatiya Janata Party (BJP) is likely to take up several resolutions in its National Executive schedule for January 16-17, including one on nine years of the Narendra Modi government and one on India's G20 presidency this year.
According to sources, a political resolution at the convention will mention the upcoming Assembly elections along with the 2024 Lok Sabha elections.
"It is all about preparing for the upcoming polls. What the party did in those states and how effective were we as the party in power or in opposition there. Elections in Jammu and Kashmir could also be held in April-May or October-November… whatever suits the government," said a source.
The top brass of the leadership will also spell out the task list for state and community leaders in view of the upcoming elections.
The economic resolution at the BJP National Executive is expected to delve heavily into how the Indian economy fared well compared to the West. A comparison between the economic eras of the Manmohan Singh government and the current Narendra Modi government is also likely.
"The Manmohan Singh government saw inflation rising to 8.4%, while under the Modi government, average inflation had been at 4.9%. From 20.3% in April-June 2020 to 7.2% in July-September 2022, the unemployment rate has seen sharp decline a well," the source said, quoting Union Minister Ashwini Vaishnaw's observations.
The economic resolution may also mention how investments were ramped up to Rs 19-20 lakh crore per quarter in 2022 compared to an average of Rs 15 lakh crore in pre-Covid years.
According to sources, a resolution on nine years of the Modi government and steps taken to improve the lives of the poor is likely to be brought in as well. This will serve as a guide for all leaders who will be tasked with taking the numbers to the electorate, added the source.
With the Modi government set to host the G20 Summit in India's year of presidency, the BJP, too, will play a part in showcasing India to the world. A resolution on G20 is tipped to inform leaders about the mammoth exercise of hosting international politicians and diplomats and giving them a peek into India's rich culture and heritage, sources said.
Read all the Latest Politics News here