 [ad_1]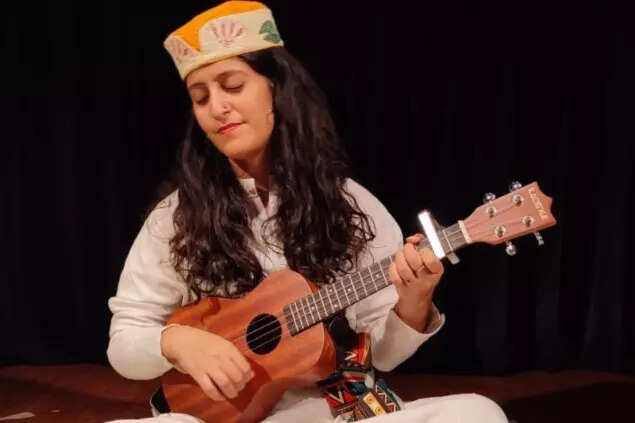 Jasleen Kaur Monga's renditions of 'Chaupai Sahib' and 'Gobindey Mukandey' have notched up millions of views on YouTube but her proudest moment as a gurbani singer came last month when she was invited to lead a kirtan in the historic Gurudwara Bangla Sahib in Delhi. "I was the only female singing there. This doesn't happen. I feel blessed," says the 29-year-old who has a performance slated in Dubai soon.
The holy scriptures of Sikhism have always espoused gender equality. The official code of conduct, or the Sikh rehat maryada, does not place any gender bar on performing kirtans inside a gurdwara. Yet, even to this day becoming a professional gurbani kirtan musician (or ragi) in a reputed gurdwara in India is a male prerogative. The Golden Temple in Amritsar continues to ban female kirtan singers (or bibi ragis) inside the main shrine, mostly due to religious orthodoxy. Women-only jathas or singing troupes struggle to take centre-stage at important religious festivals. Australia-based Dya Singh, one ofthe foremost practitioners Sikh spiritual music, says gender prejudice, though discouraged by the Sikh gurus, is still prevalent in the older generations, especially in Punjab. "But in cities like Delhi, Mumbai and Kolkata, more women are beings encouraged to learn kirtan," says Singh, who adds that it is women kirtan singers in the West who have been leading the way. Last month, Gurujas Kaur Khalsa, a Los Angeles-based yogini and lead singer in a band, won a Grammy award for her album 'Mystic Mirror' based on shabads from the Guru Granth Sahib.
Even in India, outside the hierarchical confines of the gurdwara system, the female voice is assuming a life of its own. Many took to kirtan singing on social media during the pandemic when professional groups (mostly all-male jathas) were grounded. Jasleen Aulakh, singer and songwriter from Chandigarh who works with her musician-lyricist mother Polly Saghera to create compositions inspired by folk music with Sufiinfluences, says she never dabbled deep in the genre until the lockdown happened. But during the pandemic, she wanted to sing something that expressed gratitude. So, with her head covered and her legs crossed, Aulakh sat with a guitar and condenser mic to record a shabad from her room and studio. "I like to break free from any convention and that is exactly what the idea of Sikhism was to begin with when Guru Nanak Dev ji set out to start this new movement," says Aulakh who continues to record shabads in her atypical ways.
Guneet Kaur revived her interest in gurbani music in 2020 when a home theatre initiative called Dastan-e-Guru Nanak came along. Since then, she has sung traditional gurbani tunes for the show while chanting 'waheguru' with Tibetan singing bowls and reading the shabads to the accompaniment of ukulele. She has shown her more syncretic version of gurbani from India to Adelaide. "We have invoked verses by Kabir and Baba Farid from the Guru Granth Sahib. These won't be sung in a gurdwara set-up so easily or in the popular kirtan culture," says the 33-year-old.
The winds of change are blowing in Punjab too. Ludhiana-based Gurmat sangeet teacher Ustad Sukhwant Singh, 48, has an academy for gurbani singing where students learn free of cost. He has trained several women ragis, including Jasleen Kaur Monga. Some 3,000 women are currently training under him from all over India, often with traditional instruments like taus, dilruba and rabab. "Families need to take music seriously for women. It can help them earn a living too," says Sukhwant Singh.
Mumbai-based music producer K J Singh, who has worked with Vishal Bhardwaj, Indian Ocean and Rabbi Shergill and has his own label for spiritual music, says the last decade has seen a huge shift in kirtan singing outside of the gurdwara system. "However, streaming platforms and recording labels haven't highlighted the kirtans being sung by women and that's why you won't easily find them in gurbani playlists," says KJ who is now adding the finishing touches to a fiveyear project of archiving 130 kirtans sung in all the 60 raags of the Guru.
Granth Sahib. Called Sabad Naad, it features several female gurbani singers alongside classical musicians like
Zakir Hussain
, Amjad Ali Khan, Carnatic vocalist Aruna Sairam and playback singers like Bombay Jayashri and Rekha Bhardwaj. "There is also this 'dakhni' flavour in the archive with Sairam singing the verses inspired from travels of Guru Nanak in the south. In fact, Sairam told me that if it is ever allowed, she would like to sing in the Golden Temple," says KJ Singh.
"Women who are following the basic code of conduct of an amritdhari woman should be allowed to perform," says Bibi Kiranjot Kaur, a senior member of the Shiromani Gurdwara Parbandhak Committee, who has favoured the right of women to perform kirtan inside the main shrine of the Golden Temple. "The SGPC should take the initiative to train and mentor women singers," she adds.


[ad_2]

Source link