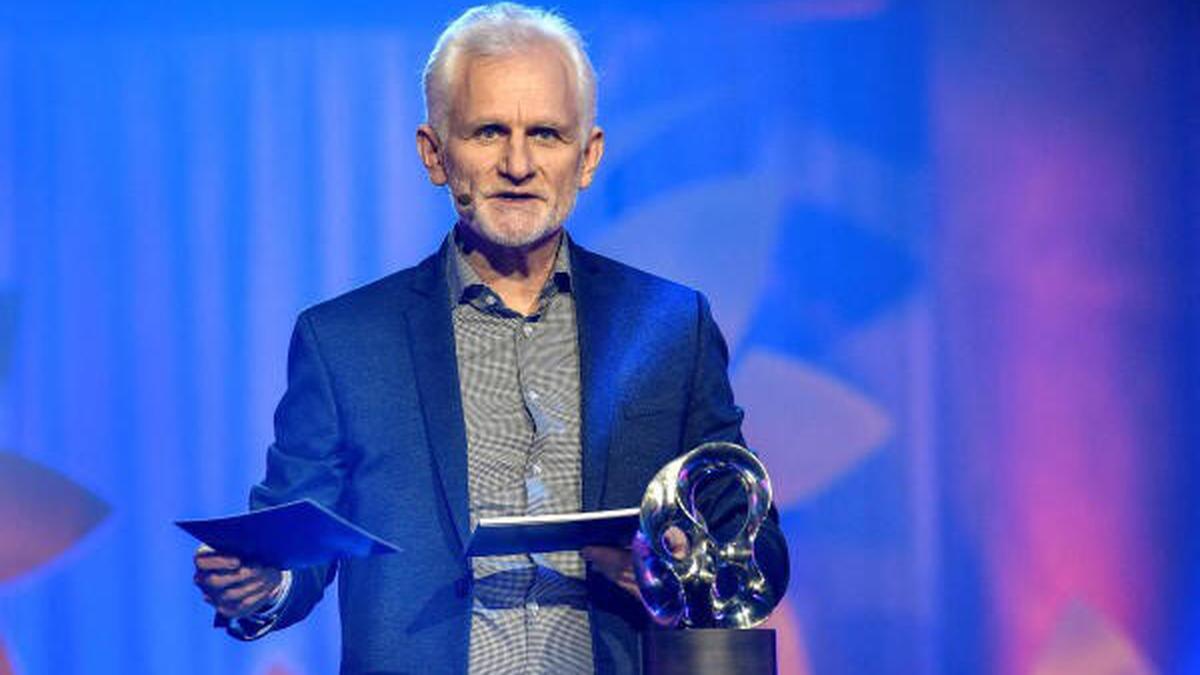 [ad_1]

The story so far: Jailed human rights advocate Ales Bialiatski, the face of Belarus's fight for democratic rights and 2022 Nobel Peace Prize laureate, has been sentenced by a court in the capital Minsk to 10 years in prison on charges of smuggling cash and financing protests. Three of his colleagues from Viasna, Belarus's most prominent human rights group, have also been handed jail sentences between seven to nine years in the same case. The United States and the European Union described the trial as a "sham", while exiled Belarusian Opposition politician Sviatlana Tsikhanouskaya described the verdict as "appalling" and called for the activists to be freed.
Who is Ales Bialiatski?
Ales Bialiatski, 60, has been a human rights and pro-democracy activist since the 1980s, when Belarus was part of the erstwhile Soviet Union.
Born in 1962, Mr. Bialiatski graduated from Homiel State University in 1984 with a degree in Russian and Belarusian Philology. After working as a schoolteacher for a short period, he became a scholar of Belarusian literature and then started working at the Museum of History of Belarusian Literature. Later, he was elected the director of the Maksim Bahdanovich Literary Museum in Minsk, where he organised several exhibits of poltical and social importance. Mr. Bialiatski was also involved in multiple pro-democracy initiatives till Belarus gained independence from the USSR in 1990.
In 1994, Alexander Lukashenko was elected President in the country's first (and what is considered its only) free election since independence. Mr. Lukashenko gradually began tightening his hold on the country's administration and began to amend its Constitution. His rule has been described as "Europe's last dictatorship". In 1996, locals protested against Mr. Lukashenko's rule in large numbers, in an uprising popularly called the Minsk Spring. The leader cracked down on dissent and several people were detained.
It was around this time that Mr. Bialiatski began campaigning for human rights and set up Viasna-96, named after the Belarusian word for "spring", with the aim of helping arrested political protesters and their families by providing financial and legal assistance. The organisation was later christened the Viasna Human Rights Center and was registered as a non-governmental organisation (NGO) in 1999. Viasna also began documenting abuses against prisoners by the Lukashenko administration, and continues to keep a record of every political prisoner to date— including its founder. ​​
Mr. Bialiatski also served as the vice president of the International Federation for Human Rights (FIDH), one of the oldest international human rights organisations, between 2007 and 2016.
Mr. Bialiatski has received many accolades for his work including the Right Livelihood Award, nicknamed the alternative Nobel, in 2020. He had been nominated thrice before for the Nobel Peace Prize—in 2006, 2007, and 2012— before receiving it last year. "Despite tremendous personal hardship, Mr. Bialiatski has not yielded an inch in his fight for human rights and democracy in Belarus," the Nobel Committee said while awarding him the prize.
In December 2022, Mr. Bialiatski's wife Natalia Pinchuk, who also accepted the Nobel on his behalf, said that the mission to defend civil rights was a "risky" one.
Have Mr. Bialiatski and his organisation had run ins with the administration in the past?
In 2001, the Belarusian Supreme Court quashed Viasna's NGO registration for in participating in the "observation of the presidential election".
Since their registration was cancelled in Belarus, the NGO reportedly had foreign bank accounts. This would later become grounds for prosecution of Mr. Bialiatski in 2011, when he was handed a four-and-a-half-year sentence for "tax evasion". Neighbours Poland and Lithuania passed on data to Belarus about bank accounts in their territory, which led to charges of "serious concealment" against Mr. Bialiatski. He was released in 2014, maintaining throughout that all the money from the accounts was used for human rights work. The trial was described as political by multiple rights groups and world leaders.
What are the current charges against him and his colleagues?
In 2020, Mr. Lukashenko was re-elected for a sixth consecutive term in elections that were widely considered rigged after the Democratic Opposition candidate Ms. Tsikhanouskaya was forced to flee the country before the election. A fresh wave of protests broke out in the country after Mr. Lukashenko took office. Mr. Bialiatski also became a member of the coordination council for Ms. Tsikhanouskaya.
As thousands of protestors began to be detained, Viasna again stepped up to provide legal and financial assistance.Mr. Bialiatski and some of his colleagues were arrested in July 2021 on initial charges of tax invasion, but later, charges of "smuggling" by "having illegally moved cash across the customs border of the Eurasian Economic Union in large amounts" between 2016 and 2021 and of "financing of group activities, grossly violating public order" were added.
Mr. Bialiatski was detained without trial for several months, with the trial only beginning in January this year. Prosecutors asked for a sentence of 12 years but Mr. Bialiatski, who appeared in the crowded Minsk Court behind a ​​courtroom cage on Friday, was handed 10 years of jail time.
Mr. Bialiatski is among hundreds of dissidents detained in Belarus since 2020. As per the U.N. High Commissioner for Human Rights, at the end of 2022, there were at least 1,446 people — including 10 children — being held, having faced or still facing criminal proceedings in the country.
[ad_2]

Source link