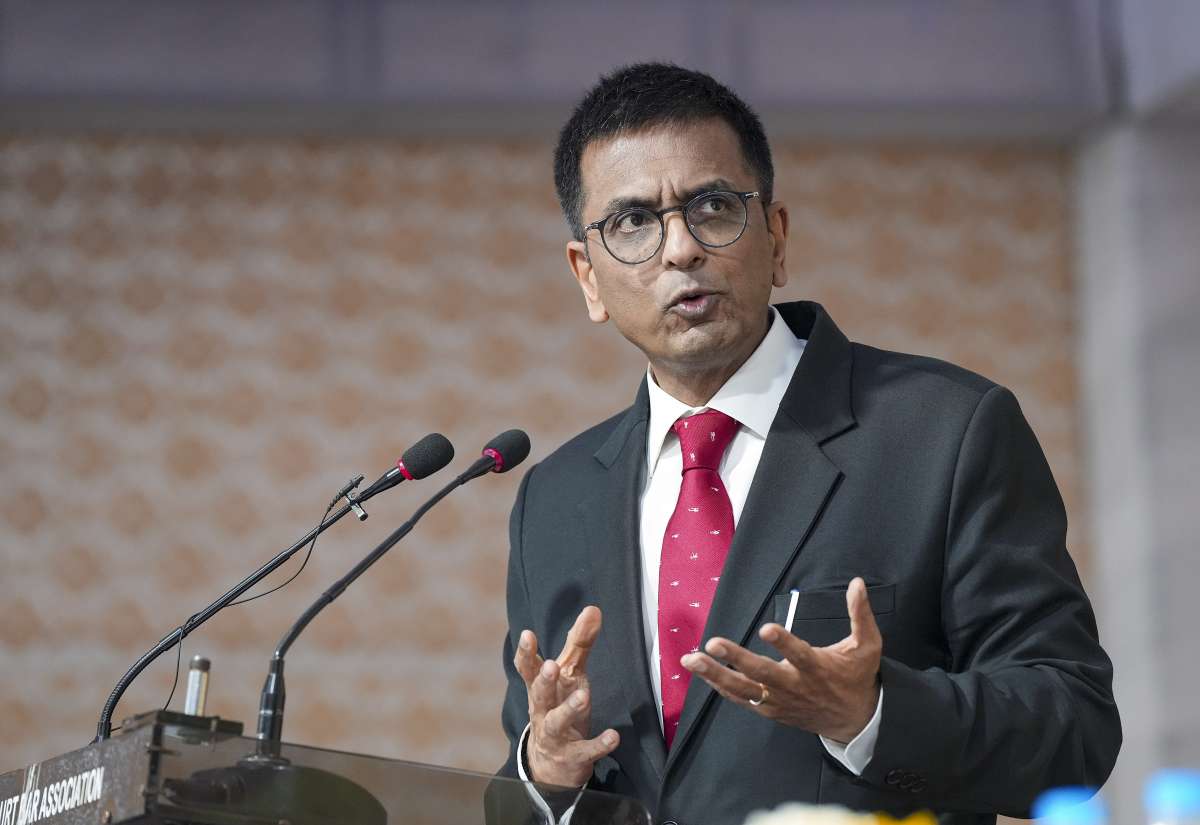 [ad_1]

Chief Justice D Y Chandrachud on Thursday ordered Supreme Court Bar Association (SCBA) president Vikas Singh to leave the courtroom after a heated exchange of words broke out between the two while hearing a land allotment case. The CJI also directed the lawyer to keep his voice down while the lawyer told a bench of CJI and justices PS Narasimha and JB Pardiwala that he was struggling to get the matter listed for the last six months.  
"The Appu Ghar land came to the Supreme Court on a petition by the SCBA and the Bar was given only one block with reluctance. The construction on the land was to begin during ex-CJI N V Ramana's tenure. For the last six months, we are struggling to get the matter listed. Treat me like an ordinary litigant," Singh said. The CJI remarked, "You can't demand land like this. You tell us the day we are sitting idle for the whole day."
To this, Singh replied, "I am not saying that you are sitting idle for the whole day. I am only trying to get the matter listed. If it is not done, I will have to escalate and take it to your lordships' residence. I don't want the Bar to be taken like this." Chandrachud then got agitated and said, "Don't threaten the chief justice. Is this a way to behave? Please sit down. It will not be listed like this. Please leave my court. I will not list like this. I will not be cowered down by you."
"Mr Vikas Singh, please don't raise your voice. As a president, you should be mentor and leader to the Bar. I am sorry, you are reducing the level of dialogue. You have filed an Article 32 petition, claiming that the land allotted to the Supreme Court should be handed over to the Bar for construction of chambers. We will deal with the matter when it comes. Please don't try and twist our arm to give you the relief you want," the CJI said.
"You are asking for a land allotted to the SC to be given to the Bar. I have announced my decision. It will be taken on 17th and it will not be first on board," he added. The SCBA president said, "If my lords want to dismiss it, please do it. But don't do that it is not listed." The CJI replied, "I have announced my verdict. It's on March 17 and it will not be listed at serial number 1, Mr Singh." The senior lawyer refused to slow down and said the Bar has always supported the court.
"I never want to be unreasonable but I am forced to do so in this case," he said. Chandrachud then told Singh, "I am the chief justice. I have been here since March 29, 2000. I have been in this profession for 22 years. I have never allowed myself to be browbeaten by a member of the Bar, litigant or anyone else. I will not do that in the final two years of my career." Refusing to keep quiet, Singh said, "This is not the attitude. If the Bar is cooperating with the court, it doesn't mean it should be taken for a ride. That is something which I feel very strongly. I want to make this very clear."
The CJI then said, "Please sort your agenda outside the courtroom," and called the next matter. As the mentioning of the cases ended, senior advocate Kapil Sibal, who was present in the court for Shiv Sena case, apologised to the bench on behalf of the bar and said, "I'm sorry for what happened this morning. I apologise. There is a Lakshman Rekha that none of us should cross. I don't think that the bar should transgress the limits of decorum," The CJI said, "There is no reason to behave like this. We sit here the whole day and take up 70-80 matters in a day. For all these matters, I sit with my staff in the evening and give them dates." Senior advocate Neeraj Kishan Kaul also expressed apology and said, "We all join and feel equally anguished by what happened."
ALSO READ | Supreme Court refuses to entertain PIL seeking menstrual pain leave | Here's what CJI said
ALOS READ | No case is big or small, every case is important for courts, says CJI DY Chandrachud


[ad_2]

Source link