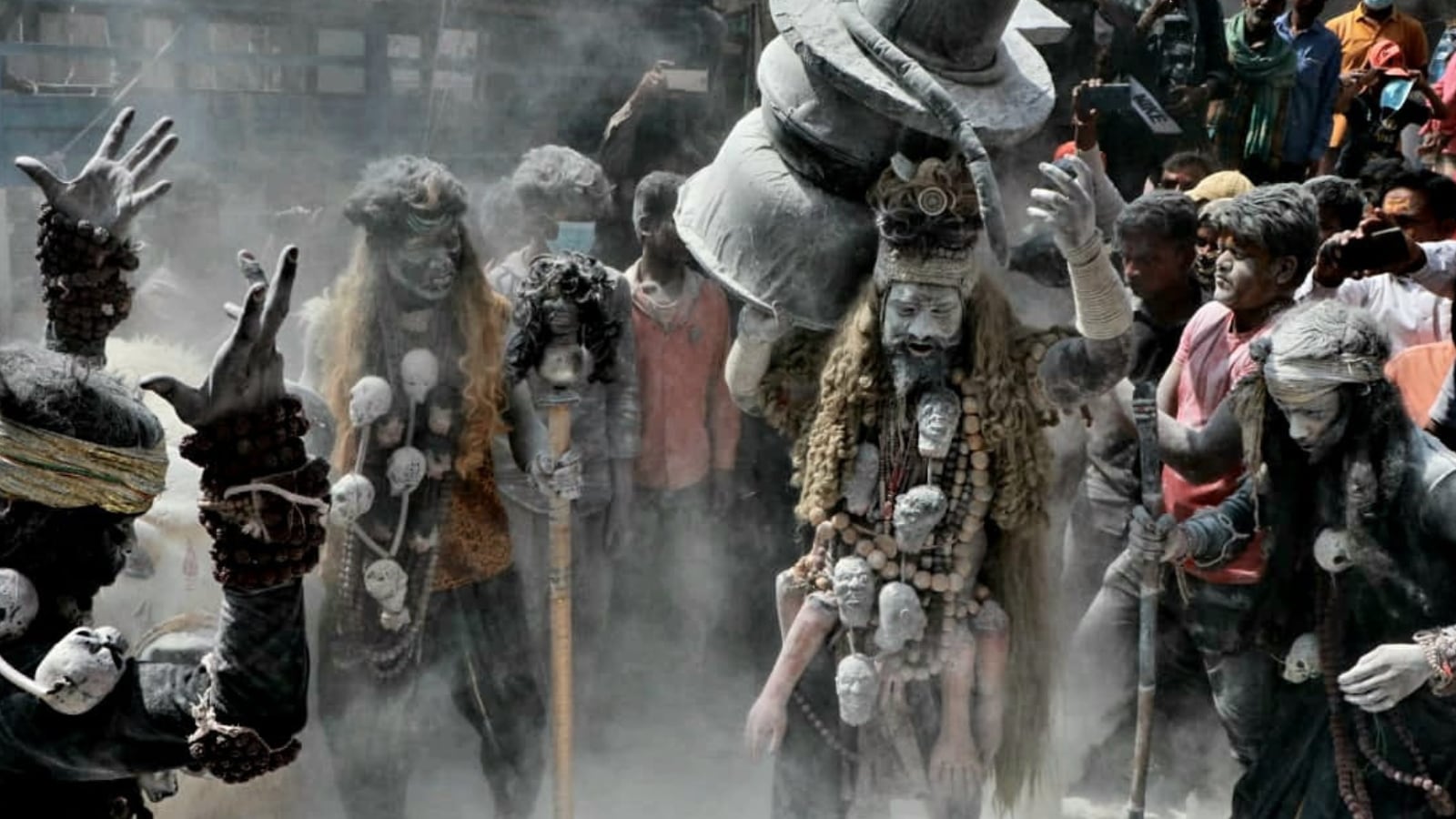 [ad_1]

Edited By: Nitya Thirumalai
Last Updated: March 04, 2023, 08:58 IST
For long, Masaan Holi was restricted to saints and seers. But almost three decades ago, the tradition gained popularity when some groups came forward to arrange organised celebrations. (News18)
The tradition, referred as Masan Holi, is organised to mark Rangbhari Ekadashi. Said to be as old as Kashi itself, the spectacle is organised five days ahead of Holi and marks the onset of festivities in Uttar Pradesh's spiritual capital
Said to be one of the most scared cremation grounds, the Harishchandra Ghat in Varanasi was drenched in festivities on Friday after saints, seers and other devotees of Lord Shiva thronged the ghat to take part is one of the most peculiar traditions of playing Holi with the ashes and remains of the pyre.
The tradition, referred as 'Masan Holi', is organised to mark Rangbhari Ekadashi. The tradition, said to be as old as Kashi itself, is organised five days ahead of Holi and marks the onset of festivities in Uttar Pradesh's spiritual capital.
The Masan Holi celebrations got off to a grand start this year when devotees carried out a Shobha Yatra, starting from Aghor Peeth Baba Keenaram Ashram. The procession saw the participation of more than 50,000 people, most of who were dressed as followers of Lord Shiva. The almost 5-km-long procession, that also covered Sonarpura and Bhelupura, concluded at Raja Harishchandra Ghat at 3pm.
"Raja Harishchandra Ghat presented altogether a different scene where people were seen drenched in Holi celebrations amidst the burning pyres. It's strange, but true," said Mohit Shukla, who hails from Kolkata and came all the way to Varanasi to be a part of Masan Holi.
Pawan Chowdhary, one of the organisers at Harishchandra Ghat, said people may have come across specialty Holi celebrations like the Barsana Holi, Lathmar Holi and others, but Kashi's Masan Holi remains the most unique.
Not only saints, seers and sadhvis, but people from all walks of life assemble at the cremation ground amidst the burning pyres to take part in an age-old tradition of celebrating death with the hope of attaining salvation (moksha), he said.
Chowdhary, who belongs to the Dom community, says it is ensured that Holi is celebrated purely in a traditional manner. He said that as per Hindu mythology, Lord Shiva got married to Goddess Parvati on Mahashivratri and stayed back at Parvati's maternal home for a few days. It was believed that two weeks later, on Rangbhari Ekadashi, Lord Shiva brought her to Kashi for the first time after marriage.
It is believed that the coming of Goddess Parvati was celebrated by Lord Shiva's devotees at Kashi Vishwanath temple, but Shiva's ethereal followers didn't get the chance to play with colours so the Lord himself came to the cremation ground to play Holi with them using ashes.
Masan Holi is also observed at Manikarnika Ghat, the world's biggest cremation ground. "At Manikarnika Ghat, Masan Holi is observed a day after Rangbhari Ekadashi (on Saturday)," said Gulshan, the organisaer of Masan Holi at Manikarnika Ghat.
For long, Masan Holi was restricted to saints and seers. But almost three decades ago, the tradition gained popularity when some groups came forward to arrange organised celebrations.
Officials in the state's tourism department said Masan Holi also attracts tourists from abroad. "Masan Holi is indeed a major attraction for tourists here in Kashi. It not only attracts domestic tourists, but also foreign tourists as they want to be part of this unique tradition that is observed only in Kashi," said Preeti Srivastava, deputy director of Varanasi tourism, UP tourism department.
Read all the Latest India News here
[ad_2]

Source link