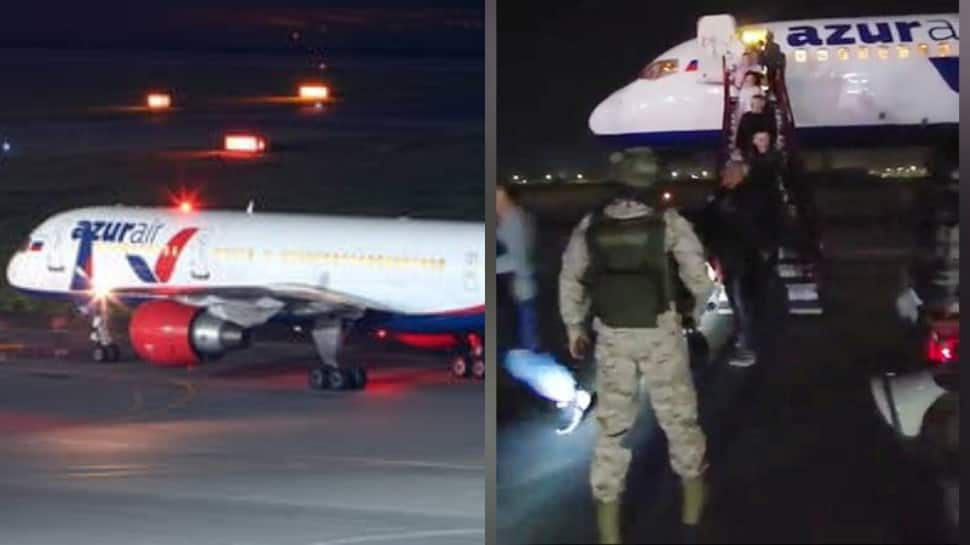 Jamnagar: As soon as the agencies received inputs about a possible bomb scare on the Goa-bound Russian Azur Air aircraft, the Indian Air Force (IAF) activated security protocols at the Jamnagar airport. "After taking the aircraft to an isolated location at the military airport which is mainly responsible for the safety of the industrial hub, the IAF officials instructed the ground staff and Garud Special Forces personnel to help in the safe evacuation of passengers on board," defence officials said. The IAF had a very short time to make preparations as it had only 50 minutes of response time to prepare for the landing of the plane after inputs about the plane first came in. After parking the aircraft safely in the isolation bay, the IAF staff evacuated 236 passengers to safety from the plane, they said. IAF officials led by Air Commodore Anand Sondhi provided immediate hospitality to make the passengers comfortable there. Soon after, National Security Guard (NSG) bomb squad were flown in a special Air Force aircraft to carry out for scanning the Azur Air plane and personal baggage before clearing the flight for departure to its final destination – Dabolim airport, Goa. 
The top IAF brass from air headquarters was continuously keeping a close watch on the late-night developments. At the same time, officials on the ground ensured a quick evacuation of passengers from the plane. The officials said such emergencies are generally handled by airports run by the Union Civil Aviation Ministry but this time there was not much time for the aircraft to be allowed to move to Mumbai, Goa or Ahmedabad and Jamnagar was chosen for ensuring the safety of passengers.

Also Read: Everyone onboard is safe': Russian Embassy on alleged bomb scare on Moscow-Goa flight

The Moscow-Goa chartered flight made an emergency landing in Gujarat`s Jamnagar on Monday after a bomb threat. The flight arrived at its destination at Dabolim airport on Tuesday afternoon. The Russian Embassy issued a statement saying they were alerted by the Indian authorities about the alleged bomb scare on the Azur Air flight en route from Moscow to Goa. 

Gujarat | Outside visuals from Jamnagar Aiport where Moscow-Goa chartered flight was diverted after Goa ATC received a bomb threat. pic.twitter.com/yXIumIWyUG
— ANI (@ANI) January 10, 2023
"The Embassy was alerted by Indian authorities about an alleged bomb scare on Azur Air flight from Moscow to Goa. The aircraft made an emergency landing at Jamnagar Indian Air Force Base. Everyone on board is safe; authorities conducting an inspection of the aircraft," said the Russian Embassy in a statement