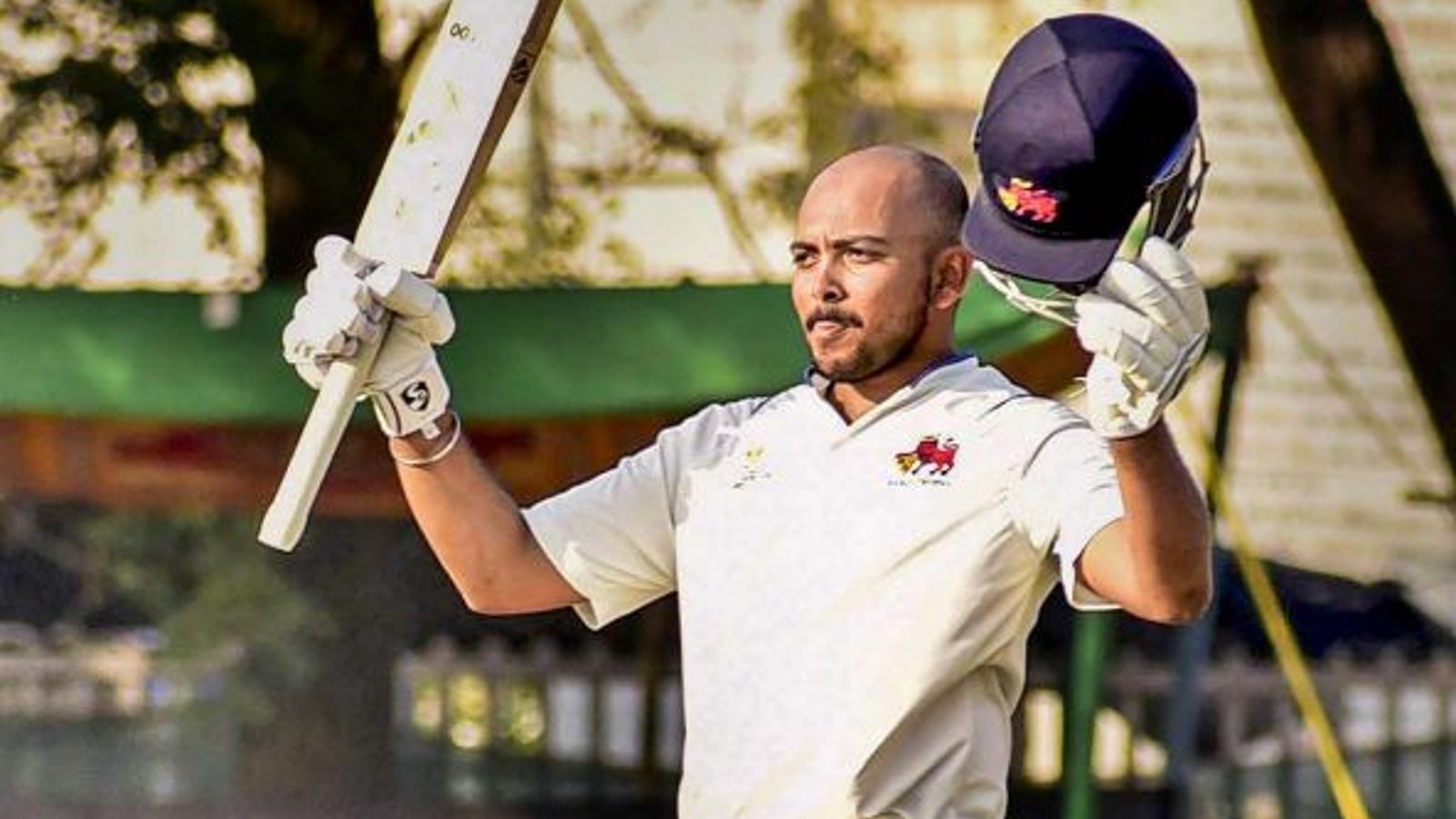 'Sir mujhe bada hi karna padega and bada karunga,' were Prithvi Shaw's words to his childhood coach Prashant Shetty before the domestic season got underway. The two would spend hours on the ground to get the belligerent opener ready for the grind ahead and the long sessions under the sun are finally reaping rewards. After dominating in the white-ball competitions, Shaw, after failing to convert starts in the first four Ranji Trophy fixtures, has landed a daddy knock – 379 vs Assam – and registered the second-highest individual score in the history of the competition.
"I think it's just the realisation that 'bahut bada karna padega' to get noticed. It was in his mind when we were practicing before the season. He had told me that 'sir mujhe bada hi karna padega and bada karuga'. He had said this before going and himself had realised that 100s can become 150s, 150s can become 200s and 200s maybe 300s," Shaw's childhood coach Shetty told News18 Cricketnext.com in an exclusive conversation.
ALSO READ |'Umran Malik Possesses a Lot of Talent, Have to Implement That in Right Way': RP Singh
In the last couple of years, or seasons to be precise, Shaw is yet to put a foot wrong in the domestic circuit and has been bullying oppositions, across formats, match after match. Even after the truckload runs, the off-field talks continue to take centre stage and the right-hander was not even selected for the India A teams which were picked during this tenure. For both coach and his ward though, the focus always remained on runs.
"Motivation is simple. Work hard off the ground and ground pe sirf balla baat kare. Simple. There is no arrogance in it. If you have to do it, do it on the ground and show it on the ground. Whatever talks are happening can quickly turn in your favour when runs start coming. He is already been an India player – has played for the senior team. It's not that he has not seen that level. And the motivation to get back there and stay there has always been there. I told him that you have to get back to that (Indian team) dressing room. So you have to work hard and keep performing to get there," says Shetty.
Big appetite for runs
During the time away from the Indian cricket team, there were no/very little technical changes made to Shaw's batting and it was just about increasing the appetite for runs. For Shetty, it was making him revisit what he did at the school level and the kind of hunger he displayed in his foundation years. The message to Shaw was simple – play straight and continue to score every inning.
"There has been no technical change, just mental. At the level he is playing, he knows who is planning what. So it has been purely mental toughness. He has practiced really hard, a lot of focus was on preparation. He would practice hard and practice long before the season. That hunger in him was very visible this time around. He should play as straight as possible early on and then he has the skills to make it big. Just play straight initially was my communication with him when we were practicing before the season.
"And for us it's like jaise wo school mai karta tha – 200, 100, 300. I know the level is different but he has what it takes to put up a string of scores like he did at the school level – 100 after 100. He had a big appetite then and it's about continuing with the same at this level now. Not just every match, but every inning," says Shetty.
Criticism is part and parcel
Shaw has remained under the lens for years now. May it be for the off-field chatter or the way he bats in the middle. Shetty, however, doesn't complicate his messaging to the youngster and continues to motivate him to keep performing with the bat.
"People will continue to talk. Even if you fail one inning, they will talk. People criticised someone like Virat Kohli too, so Shaw ko bhi bahut kara. Even he knows that criticism is part and parcel of his life. Not only off field, but he has been under the scanner for how he plays too. Question marks have been there on his attacking game and approach at top of the order. But he knows that the people who matter can only be pleased with performances. Baaki jo chal raha hai chalne do, tu bas run kar has always been my message to him," says Shetty.
Now, the typical Indian question was – how happy was the father with the 379?
"Father is very happy but like every father, he was like 'sir agla inning karna chahiye'. Fathers will never be satisfied. He would have thought on 379 that 'agar 21 run aur hote to 400 hote'. So I think that's the typical difference between father and coach (laughs)," says Shetty.
The next step
Shaw's consistency, across formats, has been second to none in the domestic competitions. The opener continues to be ignored for the A set-up but Shetty feels more scores like these will impress the selectors and men who matter in the BCCI. For Shetty, who is now serving as batting coach of Goa, there are very few like Shaw, both in domestic and world cricket, and he can be an asset in any format.
ALSO READ | 'Don't Want to Miss My Last Bus Drive with Team': Ex-Coach Reveals Dhoni's Words Ahead of 2019 WC Semi-final
"Next step is up to the selectors and people who matter in the BCCI. But for me, the focus is that he continues to score with the bat. His job is to score and he should continue doing that. For me, important is Prithvi's mindset. Very few bat like him in the domestic, even world circuit. If groomed, Prithvi can be an asset in any format. Our perception is that our opener should see of first few hours and then score. But there is no guarantee to runs coming after that. But with Prithvi, if he bats for two hours, he can make a match out of it on any given day," says Shetty.
Get the latest Cricket News, Schedule and Cricket Live Scores here