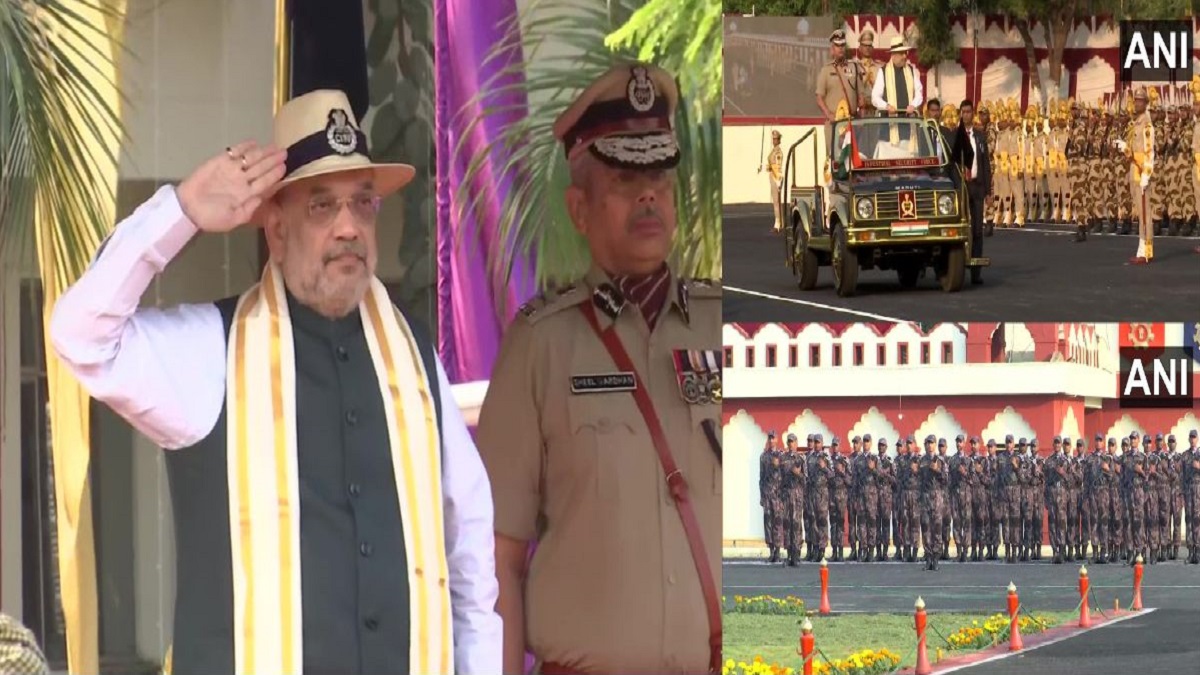 [ad_1]

54th CISF Raising Day: Union Home Minister Amit Shah, on Sunday, attended the 54th Central Industrial Security Force (CISF) Raising Day parade at National Industrial Security Academy (NISA) in Hyderabad. Under the act of the Parliament of India, the CISF was established on March 10, 1969. Since then, CISF Raising Day is being celebrated on March 10 each year. 
"Warm wishes to the personnel of CISF on their raising day. They have been instrumental in securing India's critical infrastructures and public places," Shah wrote on Twitter.
This year the CISF's annual Raising Day celebrations were held in Hyderabad. Speaking at the evnet, Shah said that Home Ministry will strengthen the CISF with all technologies in the upcoming times to protect the ports, airports, etc. Hailing the organisation, he further said that many CISF personnel have lost their lives in the line of duty but naxalities and terrorists are under control due to CISF. 
"PM Modi has proposed the vision of a 5 trillion dollar economy for which the safeguarding of ports, airports, etc is very important. CISF will safeguard them as they have been doing for the past 53 years," Shah added. 
PM Modi hails CISF
Meanwhile, Prime Minister Narendra Modi also hailed the CISF on its Raising Day. In a tweet on March 10, PM Modi said, "On their Raising Day, best wishes to all CISF personnel. The CISF has a vital role in our security apparatus. They provide round-the-clock security at key locations including critical and strategic infrastructure." "The force is known for its hard work and professional outlook," added PM Modi. 
CISF holds 'Raising Day' celebrations outside Delhi for the first time
Earlier on Saturday, Shah said that the CISF forms one of the pillars of India's internal security. As per officials, this is the first time that CISF is holding the 'Raising Day' celebrations outside the National capital, New Delhi. It used to be held at CISF ground located on the outskirts of Delhi, in Ghaziabad.
Last year, Shah attended the 53rd Raising Day ceremony of the Central Industrial Security Force (CISF) at Ghaziabad's Indirapuram. For the last couple of years, all paramilitary forces are celebrating their Raising day outside Delhi. On March 19, CRPF will hold an annual Raising Day in Chhattisgarh's Bastar district which used to be once dominated by Left Wing Extremism (LWE).
ALSO READ: How a CISF personnel's swift action saved a man's life at Delhi Metro station l Watch
About the CISF
The Central Industrial Security Force came into existence in 1969 to provide integrated security cover to certain sensitive public sector undertakings with a strength of only three battalions. The force has since grown into a premier multi-skilled organization with a present strength of over 1,70,000 personnel. At present, the CISF provides security cover to more than 350 establishments across the length and breadth of the country.
The CISF security umbrella includes India's most critical infrastructure facilities like nuclear installations, space establishments, airports, seaports, power plants etc. In addition, the CISF also protects important government buildings, iconic heritage monuments and the Delhi Metro. The CISF also has a specialized VIP Security vertical providing round-the-clock security to important protectees.
(With ANI inputs) 


[ad_2]

Source link