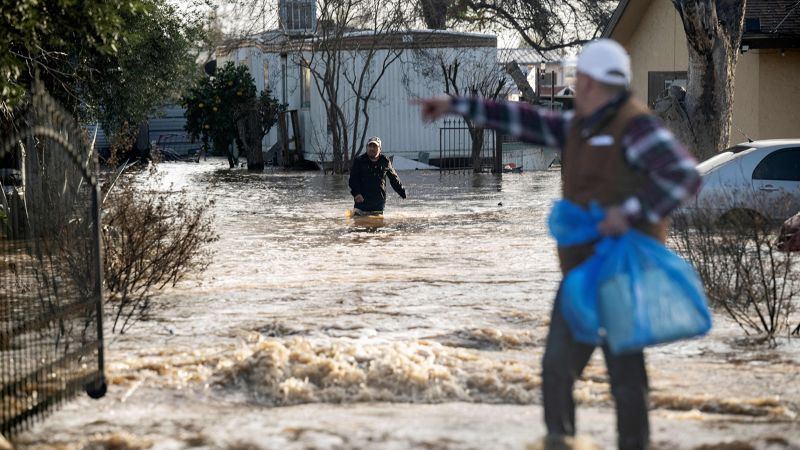 CNN
 — 

The historic storms devastating much of California have turned entire neighborhoods into lakes, unleashed sewage into floodwater and killed at least 17 people.
And there's more to come. About 5 million people are under flood watches Wednesday as yet another atmospheric river is bringing more rain to California.
"The state has been experiencing drought for the last four years, and now we have storm upon storm," California Lt. Gov. Eleni Kounalakis said Wednesday.
"We've had six storms in the last two weeks. This is the kind of weather you would get in a year and we compressed it just into two weeks."
The flood watches Wednesday are primarily in Northern and Central California, including Sacramento, the North Bay and Redding. That barely leaves enough time for residents in flood-ravaged neighborhoods to assess the devastation before the next storm.
"It's just brown water everywhere. And it's just rushing through – it was going fast," Fenton Grove resident Caitlin Clancy said.
"We had a canoe strapped up, that we thought if we needed to, we could canoe out. But it was moving too fast."
The onslaught of recent storms came from a parade of atmospheric rivers – long, narrow regions in the atmosphere that can carry moisture thousands of miles.
"We have had five atmospheric rivers come into California over two weeks," Kounalakis said.
"Everything is wet. Everything is saturated. Everything is at a breaking point, and there is more rain coming."
In fact, four more atmospheric rivers are expected to hit California in the next 10 days.
Here's what's in store as another round of ferocious weather barrels down on the West Coast:
• Parts of the Central and Northern California coast are getting deluged again with heavy rain Wednesday. The downpours are expected to intensify and exceed half an inch of rain per hour by the afternoon, according to the Weather Prediction Center.
• Rainfall totals through early Wednesday afternoon could range from 1 to 3 inches. The highest accumulations are expected in the North Bay and Santa Cruz Mountains, and more flooding could occur.
• The rain will shift north to coastal Oregon and Washington starting Wednesday afternoon, giving Central California a brief pause in the rain.
• Precipitation will also push inland to the Sierra Nevada Wednesday afternoon, dumping up to 10 inches of snow.
• The heaviest rain over the next seven days is expected in northern parts of California, where the National Weather Service predicts an additional 5 to 10 inches.
Rescue crews in San Luis Obispo County are scrambling to find 5-year-old Kyle Doan, who was swept away from a truck near the Salinas River Monday morning.
Search efforts resumed Tuesday after they were suspended Monday due to weather conditions being too hazardous for first responders, the San Luis Obispo County Sheriff's Office said.
"The conditions, however, remain extremely dangerous," the sheriff's office said Tuesday. "The water level is high and continues to be fast-moving."
The sheriff's office urged the public to leave the search operation to the professionals to avoid the risk of volunteers needing to be rescued themselves.
As another storm looms, many residents are still grappling with devastation to their communities.
Rachel Oliviera used a shovel to try to push out some of the floodwater and thick mud enveloping her Felton Grove home.
"It's backbreaking labor," Oliviera said, visibly emotional.
But she was more concerned about her neighbors, whose homes were also covered in thick mud.
"A lot of us that live here in the neighborhood are elderly, and can't actually physically do the cleanup."
In the Los Angeles neighborhood of Chatsworth, several people had to be rescued after a sinkhole swallowed two vehicles Tuesday. In Malibu, a massive boulder came crashing down, shutting down a key roadway.
In parts of Santa Barbara County, "the storm caused flows through the sewer system to exceed capacity, resulting in the release of sewage from the system to the street," County Supervising Environmental Health Specialist Jason Johnston said Monday evening.
The local health department warned the water could increase the risk of illnesses.
Another sinkhole was reported Monday in Santa Barbara County's Santa Maria, where 20 homes were evacuated, CNN affiliate KEYT reported.
"The storms hit us like a water balloon exploding and just dropped water down through our rivers and creeks. So it's been this excessive amount of flooding – it's been the cycles over and over again," Santa Cruz County spokesman Jason Hoppin told CNN.
Hoppin said 131 homes in the county received significant damage, but could be salvaged, while five others are not salvageable.
The recent storms turned fatal after trees crashed onto homes and cars, rocks and mud cascaded down hillsides and floodwater rapidly rose.
At least 17 people have died in California storms in just the past two weeks.
"That's more than we've lost in the last two years of wildfires," the lieutenant governor said. "So this is a very significant emergency."
Rebekah Rohde, 40, and Steven Sorensen, 61, were both found "with trees on top of their tents" over the weekend, the Sacramento County Coroner said. Both were unhoused, according to the release.
In the San Joaquin Valley, a tree fell on a pickup truck on State Route 99 in Visalia on Tuesday, killing the driver. A motorcyclist also died after crashing into the tree, the California Highway Patrol said.
Another driver died after entering a flooded roadway in Avila Beach Monday, the San Luis Obispo County Sheriff's Office said.
"It only takes six inches of water to lose control of a car to be knocked over. In 12 inches, cars start floating away," Kounalakis said this week.
"You've heard that creeks that have risen 14 feet just in the last day and in certain areas we've had over a foot of rain – just in the last 48 hours. So it is unbelievable."
Though none of the coming storms are expected to individually be as impactful as the most recent ones, the cumulative effect could be significant in a state where much of the soil is already too saturated to absorb any more rain.
And the state's ongoing drought has parched the landscape so much, the soil struggles to absorb the incoming rainfall – which can lead to dangerous flash flooding.
Scientists have warned the climate crisis is having a significant effect on California's weather, increasing the swings between extreme drought and extreme rain.